Does Summer Walker Really Get the Last Laugh?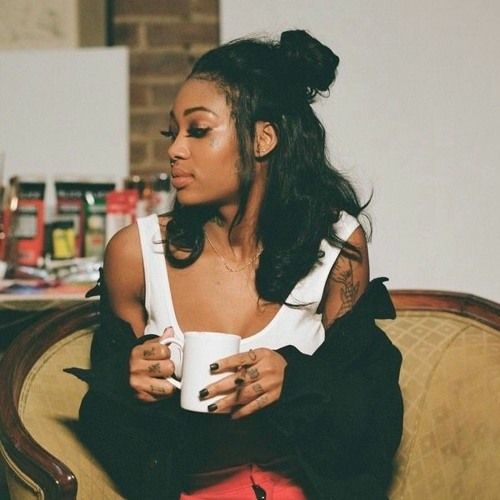 Residing in a time centralized around technology, it is not hard for people's business to get out into the open. As a celebrity, it is not difficult for any sort of information (personal or impersonal) to be at the disposal to the public. Summer Marjani Walker, better known as Summer Walker, is not any different than many celebrities to have their business plastered all over social media for the whole world to see.
Born April 11, 1996, in Atlanta, Georgia, Summer Walker attended and graduated high school at North Springs High School in the Fulton County area. Following graduation, she did not live a life of lavish. For two years, Walker had worked as a cleaner and stripper while releasing her vocals for the world to hear on SoundCloud. The singer taught herself how to play the guitar by watching tutorials on YouTube. Summer Walker first got her stardom to fame in 2017 when a woman who works as the studio manager for Love Renaissance discovered her music on the internet. She then was signed to Love Renaissance and Interscope Records. On October 19, 2018, Summer Walker released her first commercial album titled "Last Day of Summer", which made a way for her hit single "Girls Need Love". This album paved the way for her fame and power forces behind her, such as linking with Drake to create a remix to her single "Girls Need Love" and having producer London On Da Track producing for her.
As Summer Walker's career skyrockets, the dispense of her mental sanity and wellbeing has been at the forefront for all to hear and read. During the year 2019 while working on her debut album, Walker and London Tyler Holmes (better known as London On Da Track) began dating. As the years passed, the steamy relationship began to get worse, and it didn't help that the singer became pregnant. On March 24, 2021, Summer Walker gave birth to a baby girl she calls Bubbles. The true name of child has not been disclosed.
Summer Walker's pregnancy experience should've been full of love and support, both from her family and father of the child. But that was not the case. Rumor has it, London had been unfaithful to the 'Girls Need Love' singer, before, during, and after her pregnancy. Finally having enough, she called the relationship quits. And put all her energy, heartbreak, and emotions into creating her sophomore album "Still Over It"—a memoir of her roughly two-year, on again-off again relationship.
Still Over it is the sophomore album of the vivacious contemporary R&B singer Summer Walker. The album gives insight to her relationship with the rapper/producer London Tyler Holmes, widely known as London On Da Track. Before releasing the album, Walker releases a statement preparing everyone mentally for what is to come. She opens by saying, "Take this opportunity to learn from my mistakes. You don't have to guess if something is love. Love is shown through actions. Stop making excuses for people who don't show up for you. Don't ignore the red flags. And don't think you have to stay somewhere' cause you can't find better—you can and you will. Don't settle for less—you don't deserve it and neither does your family."
Personally, seeing this message, I felt as if this album was going to be extremely confrontational. Something about the message made me feel as if she was not only confronting the people around her for being apart of this but herself as well. Though her business as been put out from other people's perspective for everyone to add their two cents, she finally addresses everything going on in her life.
Beginning the album, Summer starts with Bitter (Narrated By Cardi B). The song addresses her ex-London On Da Track's baby's mother that never has anything nice to say. The way I perceived the song sets the album to be in chronological order. Bitter is Walker's mentality during the beginning of her relationship. The song comes off as depressing which made me feel that the album would be purely depressing. Of course, any breakup that is publicized is depressing. But when the next song comes about, Ex For A Reason (Featuring JT & City Girls), it is live, upbeat, and full of attitude. Personally, this is my favorite song on the album. It gives me the feeling of wanting to go with my close friends to a roller rink with a giant afro, dancing to this song. Am I saying that it gives me 1970's vibes? I don't know. Summer Walker has the voice of a neo soul singer such as Erika Badu but gives us the edge of the current generation.
As the album continues, I was intrigued on how much Summer Walker calls out her ex as well as herself. For instance, the song 4th Baby Mama (Prelude), she calls out London on how he was not faithful to her during her pregnancy. But within the title, she calls herself out without making a sound. The name baby mama is meant to degrade a woman on the fact that she has a baby with a man she is not married to. The fact that Summer is referring to herself as the 4th baby mama, gives one such as myself the feeling that she knew she messed up getting with him. She should have been more precautious given that he has already had three other children with three other women.
Mentioned before, Still Over It, is presented in chronological order. Summer presents her mentality as her relationship with rapper/producer unfolds. Towards the end the album, you can hear the confidence and tone to Walker's music change. She no longer was the girlfriend that defended her man with everything in her body. She didn't justify his actions or bring energy to his exes that thinks that they won't last. Summer Walker lets the world know that she is over the mess that she has gone through with London Holms and is ready to fully dedicate her time to her baby and music. You can feel the passion she puts throughout the music, but you can also hear how desperate she is. If you follow the news with Summer Walker, you will know that she is being stalked and harassed by Holmes. All she wants is peace from him. She has gone through a world of stress and neglect from him and you can hear she wants a time to greave for the time lost and mend herself. She wants time to heal.
The album ends with Ciara's Prayer, which is Ciara praying a prayer for all the women going through similar situations as herself and Summer Walker. Maybe 8 or so years ago, Ciara had gone through the same type of situation as Walker with the rapper Future. Ending the album with the prayer gives a sense of peace and tranquility. Ciara has a voice that makes you feel a sense of Zen. The prayer shows power through her words and meaning.
Overall, Still Over it is a miraculous album that gives you a lot to enjoy and think about, but I have to wonder; Does Summer Walker really get the last laugh? She is telling her side for everyone to hear, and dissing everyone that had done her wrong within the time period, especially her ex-boyfriend London Holmes. She is allowing everyone to experience her heartbreak, but the sad part is not her pain. It is the fact that the one who has caused this pain is getting paid for her heartbreak. London On Da Track indeed produced a handful of the songs on Walker's sophomore album. Is that right? No. But he is one of the best producers out there. And in order to have the best album, you need the best writers and producers. Right?