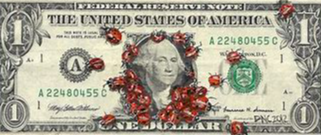 An interview with Cartersville High School's AJ about his life, and the importance of money.
Q: What's the most interesting thing about you that you can talk about for hours? 
A: I'm a good listener, anybody that talks to me knows that they can come to me about anything. They can confide in me, and they know I wouldn't judge. 
Q: Is that why you want to pursue a career in the 'therapist' side? 
A: Yes, I know that I can really talk to people and help them with their life 
Q: Do you want to talk to them because you're nosy, or because you actually want to help them? 
A: I want to help, I love when people get help. 
Q: How do you help people in your daily life? 
A: Anyone that knows me, know that they can come to me about anything, and I'll be there. I'll give them advice and lead them to the least confrontational.  
Q: What do you do during your spare time outside of school? 
A: I really just work, if I'm not working then I'll just hang out with friends and family. 
Q: Why did you want to get a job, was it a necessity or was it out of free will? 
A: I don't really need a job due to my mom and dad spoiling me all the time. I like my own money so why not make it? 
Q: Going back to you saying you like helping people; do you help them by giving them money. 
A: No, I'm very stubborn with my money. I only like to spend it on myself, I feel like money goes to me and me only. 
Q: Let me paint you a picture. Imagin you're with your friend and they're starving, with money nor job. Would you buy them something to eat? 
A: No! I'll pray for them instead. I'm stubborn about my money. 
Q: Why would you want to go into a field where you help people, but you don't help anyone in your daily living. 
A: I want to help with physical and mental stuff. I'm not giving them the funds for it.  
Q: So, what does money mean to you? 
A: Money to me- Everybody says money doesn't bring them happiness. Me, it brings me happiness. I love money, like I'll choose money over everyone. That me, That's my mentality.  
Q: Wow, "choosing money over everyone" that's one I've yet to hear. 
A: Money comes first. 
Q: Ok, so do you think you'll do crazy things in exchange for money. 
A: No, I like to work for my money. You know how some people make money the "fast" way, yea that's not me. 
Q: You rather make it the slow way? 
A: Yes, the fast way comes with consequences. 
If you don't actually work for it, then what's the point.