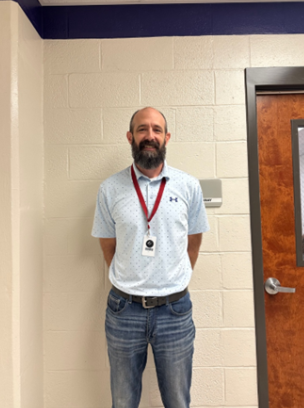 Originally from Alabama, Coach Murray is currently a teacher at Cartersville High School teaching the law and public safety career pathway. In this interview we discuss his background and how he got into teaching Intro to Law, Criminal Justice and Criminal Investigations.  
First off tell me about yourself.  
I'm originally from Alabama, as is most of my family. I'm the oldest son of a minister. I'm married to Mrs. Alicia Murray [CHS art teacher]. We started dating in high school. I have two children, Asia Haynes and Carson Murray. I have two grandchildren, Lyric and Beckham Haynes. For hobbies, I like to golf and play video games!  
What college did you go to?  
I'm a graduate from Lee University. I also attended John Marshal Law School.  
What did you major in?  
A degree in history education (from Lee University) and earned a juris doctorate (from John Marshal Law School).  
Tell me a little about your career before becoming a teacher at CHS.  
I was a teacher coming out of college [Excel Christian Academy]. I decided to go to law school and I practiced law until 2012 at which time I returned to teaching at Cartersville High School.  
What was the most interesting part of it?  
The most interesting thing about my other jobs was the short stint as an assistant magistrate judge here in Bartow County. The job was only part time, or I might have never come to CHS.  
Is there anything you miss from your past career?  
I don't really miss anything about prior jobs. I know that answer is boring but it's the truth.  
What drew you to teach here?  
I'm a person of faith and I always feel that my steps are directed. I could tell you a tale of how I got here, and you would agree that it is more than coincidence that brought me to CHS. That's a long story though.  
How long have you taught at CHS? Have you always taught here?  
This is my 12th year at CHS. I taught 4 years at Excel right out of college.  
What's your favorite part about teaching the law and public safety career pathway?  
Just getting to share a little of what I learned in law school. I think that seeing students' eyes open a little when learning about the legal system is extremely rewarding. Changing to Criminal Investigations a few years ago injecting some more excitement into the program. It's still a work in progress but it's getting better every year.