On Tuesday the 14th, starting at about 10:30 AM, Mrs. Candella's AP Literature class put on several presentations as part of their Tasting Literature project. The project is aimed at bringing about a visual and sensory experience based on the class's assigned books or poems, featuring well-known writers such as TS Eliot and Cormac McCarthy. Students labored diligently and invited members of faculty and other guests to partake in enjoying their work. Several members of the staff and former students were eager to show, causing the room to be filled by the presenters, their work, and those who were delighting in it.  
On one table, cups of crimson blood and loose staring eyes dotted the scene as students in military uniforms told guests the story of a poem dealing with a desolate war-torn land and the psychological wounds it inflicted on those who had fought there. Contrasting this, the table on the other side of the room had students in formal clothing reminiscent of the early-20s handing out fizzling grape juice and speaking in faux-posh tones as they told guests about The Great Gatsby and ensured that their money-bedecked table spread reflected that. These themes of dedication were apparent all throughout the room, Salem witches and judges handing out morbid Brunswick stew while others spoke of foods that represented aspects of life, and all the hardships therein. Students reportedly had just over a week to complete their presentations, certainly a tight deadline given the status of the guests who would be watching them, and also grading them.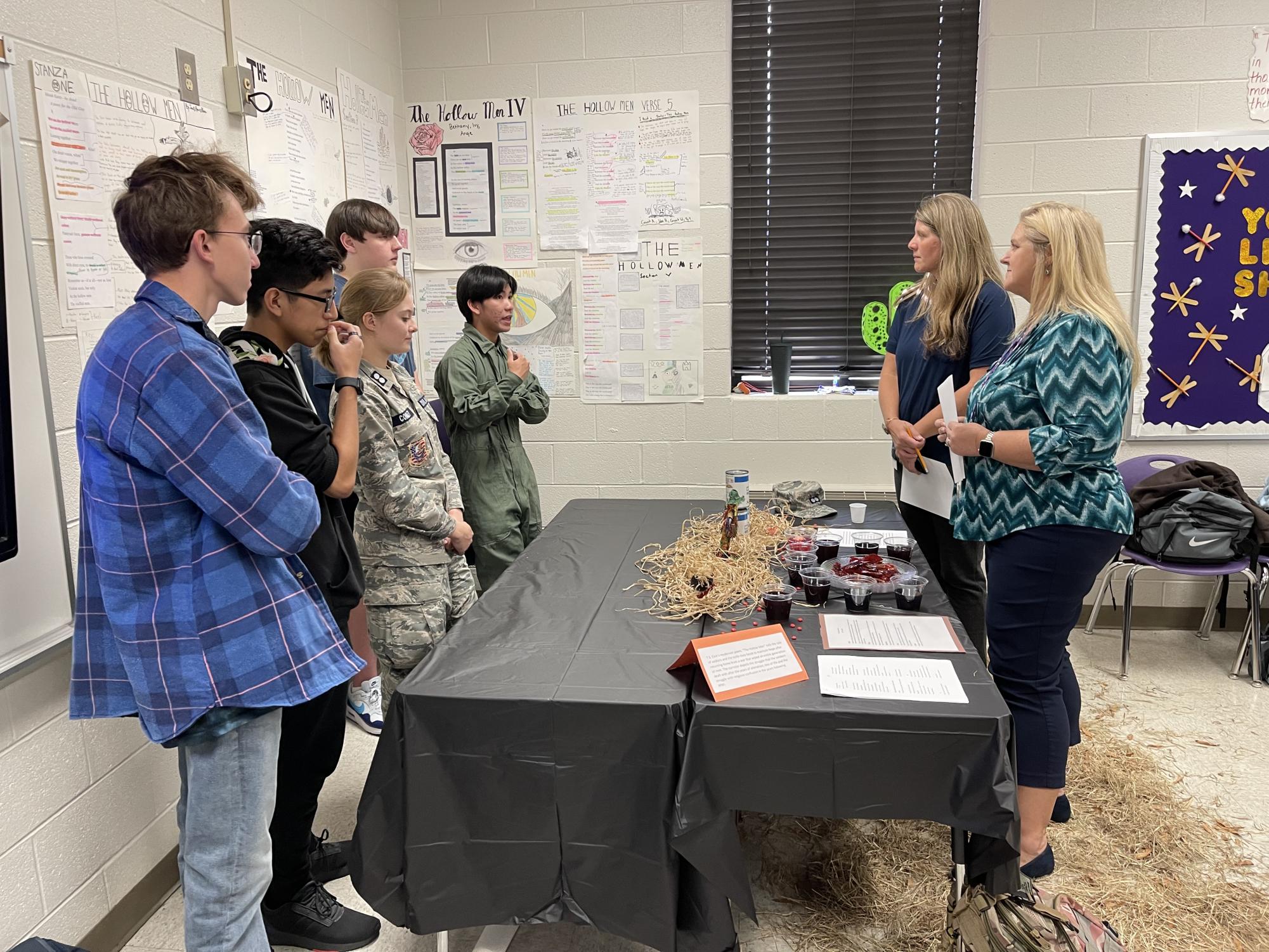 When asked how the project helped students learn in alternate ways, Mrs. Candella went on to state "For a couple of reasons, number one is that I think it helps solidify what they learned and how they can apply what they learned in a presentation. By presenting they'll do better on the AP exam by remembering all the small details of a work and coming back to its theme." One can imagine how hard it would be for students to forget given that the guests who perused the exhibits were figures like Mrs. Tierce, and other members of faculty like Mrs. Long. When asked about what she enjoyed the most about projects like these, Mrs. Tierce stated "I think it's the level of engagement. Projects like these promote a higher level of learning, they have to really understand the books in order to present these projects. I think it's a good way to assess their understanding." When asked what some of his group's greatest difficulties had been, Even Jeanneret stated "Probably putting together the project as a whole. It took a very long time to assemble these displays." 
The Literary Tasting occurs every semester with each new AP Literature class, with Tuesday's exhibits being the third time the project was presented. Mrs. Candella's AP Literature class is highly recommended to those who enjoy English Arts and do contact her if you would like to potentially watch the next tasting.