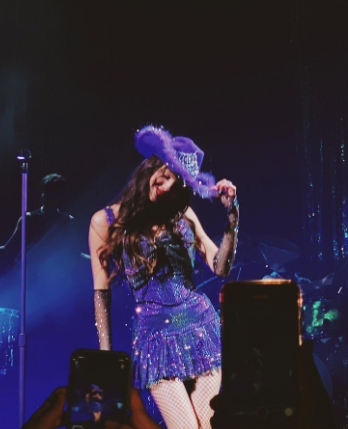 Olivia Rodrigo first started gaining fame after starring in Bizaardvark, a Disney show airing from 2016-2019. After that, she joined the hit show, High School Musical: The Musical: The Series, which is still running today. However, this fame would never compare to what came from her big debut album Sour which was released on May 21st, 2021. This album alone gave Olivia Rodrigo seven Billboard Music Awards, four iHeartRadio Music Awards, three Grammy Awards, three MTV Video Music Awards, two People's Choice Awards, an American Music Award, a Brit award, and a Juno Award. Not only that, but her debut single "Drivers License" broke Spotify's record for most played song in a week with 65, 873,080 streams. If that tells you anything, it would be that Olivia Rodrigo took the world by storm, and it wasn't a coincidence.  
Never has there been an artist in which I enjoyed every single song they put out, until I found Olivia Rodrigo. Starting from her very first songs that appeared in High School Musical: The Musical: The Series, I fell in love. Her voice is so smooth and has a lot of range. You never get tired of her music considering how each song has a different meaning and there is never too much repetition. She has a reputation for using bridges in her music. When referring to music, a bridge is what connects the song smoothly to contrasting musical material. In a lot of her music, it starts slower and then the bridge comes and leads into something louder and more powerful, and somehow, it's always unexpected. Her music never fails to make my heart race and send chills down my spine, there is just so much emotion. She has managed to create something completely fresh with every single song, while still maintaining her vibrant, colorful persona in them as well. It's obvious she puts her heart and soul into every song she releases.  
Aside from the actual sound of her music, the lyrics are put together just as well. Every song tells its own story. I have never read the lyrics to one of her songs and not related in some shape or form. Granted, I am a teenage girl, just like her, which I feel like is the perfect audience for her music since she is so real about what it feels like to be a woman, let alone a young woman. She discusses topics like comparing herself to other girls and how every time she's in public it's "social suicide" something my social anxiety can relate to on an astronomical level. It helps to see someone with so much popularity and fame struggle with the same things we do. Most artists refuse to be this vulnerable and open in their music, but people love it and cling to it.  
And as if her amazing music wasn't enough, Olivia Rodrigo is just a good person. I don't know much about her personal life, but she has such a beautiful soul which anyone can see. She stays out of drama online and is very unproblematic, which is rare these days. After just one album, she was able to gain a huge fanbase of people who see just how much she shines and the potential she has. Her highly anticipated album Guts was released on September 8th, 2023, and was almost immediately #1 on US iTunes sales charts. I immediately added all 12 songs to my Spotify playlist and have been listening to them repeatedly since. Just like Sour, every single song is like one you've never heard before. The album is so exceptional, and it will never compare to anything the musical artists are putting out today.