Canes Route McNair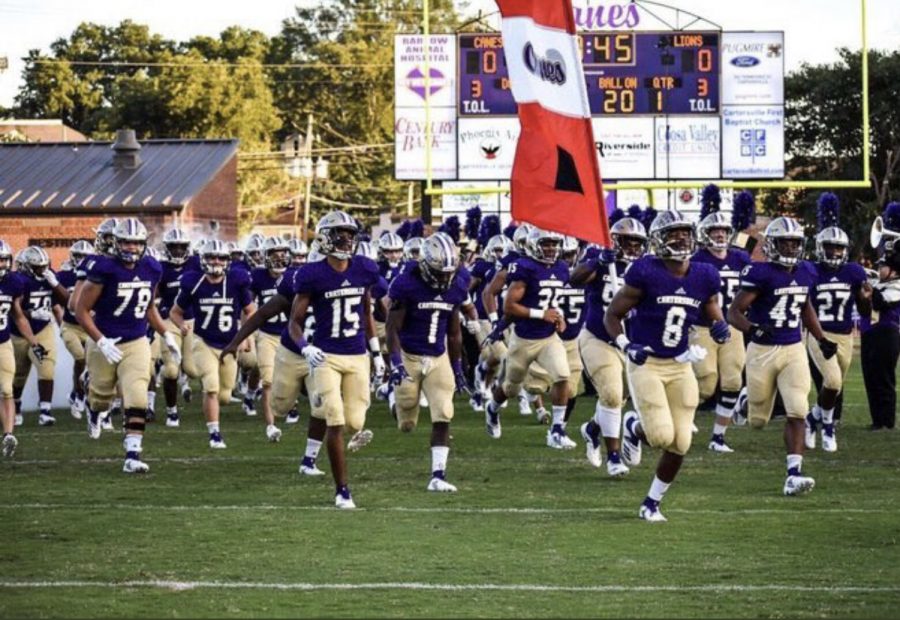 Another Friday night in Cartersville brought another win for the Purple Hurricanes, with an easy 51-0 victory over the McNair Mustangs.
The Canes started off hot. On their first offensive play of the game, Tee Webb connected with Devonte Ross on a deep ball for a 38-yard touchdown.
For the rest of the night, it was the Sam Phillips show. The junior receiver made multiple defenders miss on a screen pass for a 25-yard touchdown.
Backed up deep inside their 10-yard line, McNair was forced to punt again. A bad snap forced the punter to pick the ball up off of the ground, but as he looked up Amarai Orr was all over him for the safety.
Sam Phillips picked up where he left off, using his speed to take another screen pass for 14-yards to the end zone. On the very next drive he made another electric play, taking yet another screen for 41-yards. Tailback Harrison Allen finished the drive off by punching it in for a 1-yard touchdown. That ended a dynamic first quarter, with Cartersville up 30-0.
The second quarter began the same as the first: another Cartersville touchdown. For the third time of the night, it was a Sam Phillips touchdown. Quarterback Tee Webb threw a perfectly-placed ball to Phillips for a 21-yard score.
Right before halftime, receiver Kolbe Benham made one of the craziest catches ever seen in Weinman Stadium. Channeling his inner Odell Beckham Jr, Benham dived toward the sideline, hauled in the pass with one hand, and managed to get not just one, but two feet down for a 19-yard gain. The drive was capped off by a 4-yard rushing touchdown by Quante Jennings, giving the Canes a 44-0 lead at halftime.
With such a huge lead, Cartersville brought in the reserves, as Jalen Thomas scored Cartersville's last touchdown before the game was called in the fourth quarter due to lightning.
The Canes move to 3-0 on the young season and will travel to Cherokee next week.