Mourning Mamba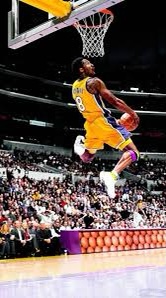 On Sunday morning, January 26th, right before 10am Pacific time, Kobe Bryant's Sikorsky S-76B helicopter crashed into a hill just outside of LA in Calabasas, California. The helicopter was last registered at 184 MPH seconds before impact. Bryant a former NBA player, his 13-year-old daughter Gianna, and seven others died in the crash. The helicopter was traveling to his daughter's basketball game. 
Kobe had recently retired (2016) after a phenomenal career all with the Lakers. During his 20-year career he was an 18-time all-star, 5-time NBA champion, 12-time NBA all-defensive team, and 1997 slam dunk contest winner. 
The night before the devastating helicopter crash, Lebron James passed Kobe for 3rd all time points. His most remembered game in his elite career was when he shot 28-46 from the floor and scored 81 points against the 2006 Raptors. The 81-point performance to this day remains the 2nd most points scored in a single game.
In 2013 while in a close 4th quarter contest with the Golden State Warriors, Bryant was fouled and tore his achilleas on impact. He limped to the free throw line and drained them both. In March of 2017 Bryant went on a 4-game streak where he scored 50 or more points in each. On December 20th, 2005, through 3 quarters, Bryant scored 62 points while the Opposing Dallas Mavericks had only scored 61 points to that point. In the final game of his career, he scored 60 points to end on a high note. 
Kobe Bean Bryant was much more than a once in a generation player. He was an amazing dad and husband. The 41-year-old father had 4 daughters, his oldest being 17 and youngest under a year old.
In 2018, Kobe was Jimmy Kimmel Live and was asked about coaching his daughter Gianna's basketball team. He talked about how she wanted to be in the WNBA and how happy he was when she scored her first basket. Gianna passed away alongside her father in that fateful Sunday morning crash. 
Kobe was also an extremely generous person, donating to many charities. He contributed 20 years of work with the "Make a Wish" foundation; he also established the Kobe Bryant China fund where he raised money for the Chinese education system.
He was also passionate about youth homelessness and worked with Step Up on Second, My friends Place, and the United Way of Greater Los Angeles. In addition, he worked with a cancer organization called Step Up to Cancer and helped raised 80 million dollars. He and his wife Vanessa also started a foundation that provided scholarships to the Kobe Bryant basketball academy. 
The death of Kobe shocked the world. The game of basketball showed love to the NBA legend by taking 24 second violations for his number (24). 
The former star has forever impacted the game of basketball, but everyone who watched him knows what it is like to have Mamba Mentality.