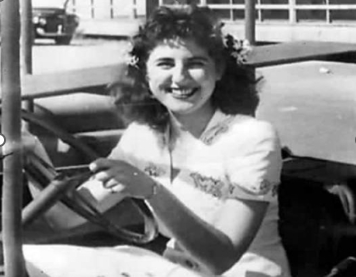 On May 6th, 1924, in New York City, Georgette Bauerdorf was born. Due to her father, George Bauerdorf, being an oil tycoon, she was born into great wealth. She was described as being very compassionate, kind, and having a beautiful, shining smile. In 1935, she and her family moved to Los Angeles, California after the devastating loss of her mother.  
After the move, Georgette attended both Marlborough School, a girl's preparatory school, and Westlake School for Girls which included famous alumnae such as Shirly Temple and Myrna Loy.  
 After graduating, she moved to West Hollywood to pursue her dreams of becoming an actor. She moved into the well-known Spanish-style complex, El Palacio, which was home to many famous celebrities over the years, one of which being Marilyn Monroe. Soon after moving, she got a job at the Los Angeles Times while also volunteering at the Hollywood Canteen every Wednesday. The Hollywood Canteen was a popular hangout where servicemen danced with famous movie stars. It was a restaurant, bar, and entertainment center all in one. After only three years of being open, there were nearly three million men who had visited the club. Her Maid, Mrs. Arwood later stated "She seemed happy and content. She was very interested in war work-especially the Hollywood Canteen…she was real proud of being a junior hostess." She was even said to have often given rides to soldiers and gone out to lunch with them, even inviting some into her home.  
Near the canteen and Georgette's home was the Guild. This was similar to the Canteen but instead gave soldiers a place to sleep when they were on temporary leave during World War 2. After the war ended, they still kept the Guild open for soldiers and had entertainers there to serve them food and care for them. 
One night in October ,1944, a Sergeant by the name Gordon Aadland was looking for a ride home. Without much hesitation, Georgette stopped and asked, "where to?" he replied, and she drove him to where he needed to go. Years later, he says "she seemed like a friendly girl, and I appreciate the ride, but she never should have picked up a soldier around midnight."  
On Wednesday, October 11th, Georgette went out with her friend Rose Gilbert who remembers Georgette being in a good mood. "We shopped and had lunch together, and she seemed perfectly happy. I was with her until two o'clock in the afternoon." She also remembers Georgette talking about her military boyfriend, Jerome M. Brown, who she had met on June 13th and never saw again. They wrote love letters back and forth and, on this day, she cashed out $175 along with a $90 airline ticket to El Paso Texas, where she said she was going to go see him. After hanging out with Rose Gilbert she heads to work.  
June Ziegler, someone who worked with Georgette, reported that she seemed very nervous that day, which contradicts what Rose Gilbert had said about Georgette just a few hours prior. She said she was sitting in her car knitting for half an hour before coming in. June also said that Georgette had asked to spend the night at June's, but it never ended up happening. While working, a man kept interrupting Georgette as she was dancing with other men. He kept asking for her to do the jitterbug with her. At this time, the jitterbug was more of a scandalous dance move. Georgette being a more conservative woman, was not comfortable with this but eventually gave in. She was said to have talked to the other workers that night discussing how she was annoyed by this. She left work at about 11:15 p.m. and drove home in her 1936 Oldsmobile Coupe. This would be her last time leaving the Hollywood Canteen.  
Around 11:00 a.m. on October 12th, Georgette's maid and janitor walked into a horrifying scene. Georgette Bauerdorf was found dead face down in her bathtub, water still running. Only the top half of her pajamas were still on her body while the other half were on the floor of her bedroom. There was a 9-by-9-inch piece of cloth forced down her throat.  
The inspector, William Penrose, arrived at the crime scene to examine the physical evidence. Her cause of death was announced as strangulation.  Due to bruising and defensive wounds, it was determined that she had put up a fight.  For how someone could have gotten into her apartment however, there appeared to be no struggle of entry. The Los Angeles Sheriff's Department showed up at 12:10 p.m. A.L. Hutchinson said that it appeared she had come home, hung around, ate, and went upstairs all before she was murdered. But due to the light bulb that was suspiciously unscrewed outside and the fact that there were no signs of forced entry, police also believed someone was inside waiting for her. The murderer also stole her car which was found not too far away out of gas and with marks that made it appear to have been in an accident.  
After being interviewed, two people came out saying they heard noises from Georgette's apartment that night. One was her downstairs neighbor who says they heard her screaming "Stop! You're killing me!" They brushed this off as a domestic dispute and went back to sleep. The janitor, Fredrick Atwood, said he had heard high-heeled footsteps and a crash, similar to the sound of a tray dropping.  
Days after her death, police received a letter from Sergent Gordon Aadland explaining that a woman that fit her description had given him a ride a few days prior to her murder. He states in the letter that she appeared to be nervous. As time passed, he would later downplay these accusations saying that she wasn't really that nervous, and that he just assumed that because "she kept looking out the rear-view mirror. The reality is that she was doing that while switching lanes; some drivers don't trust their rear-view mirrors." He also said upon reflection "There should have been my fingerprints on the passenger side, from where I got in and out of the car, but the police never contacted me about it."  
Geogette had a whole diary full of the names of all the military men she had spent time with outside of work. All of these men were interviewed but nothing led to any evidence or suspicions. The man who forced Georgette to dance was also interviewed but was quickly ruled out, why that was is unknown.   
In December, a 22-year-old man came to the San Fransisco FBI making the claim he was the one who killed Georgette. A detective came in to talk to him. His story was that he had "met the girl on a streetcar" and that she had asked him to accompany her home. When they got there, he said he talked to her for a while and then went out for coffee. After about an hour, he said he left and strangled her. The detective was very skeptical about his story. Later he would admit to fabricating the story to get the death sentence and die in the electric chair. "I had nothing to live for. I was afraid to commit suicide." 
In October of 1945, a similar attack took place on Harper Avenue, West Hollywood; Six blocks away from El Palacio. He was wearing a soldier outfit and entered the home of a woman named Dorris Hillman through an unlocked window. He first turned off the lights and then attacked her. The neighbors heard screaming and called the police. The man frantically climbed out of the window, and she survived. She described him as being young with blonde, curly hair, blue eyes, and a stocky build. When asked if Georgette had known anyone like this, June Zeigler said "Georgette did know one soldier who was extremely tall… after dating him a few times, she refused to go out with him again. Said she just didn't like him. "June couldn't remember the soldier's name and this information was soon disregarded.  
A year after the killing, there was a letter found by a high-school student addressed to the police. The student turned it in to the proper authorities. This letter stated "Sometime after October 11th, the one who murdered Georgette Bauerdorf will appear at the Hollywood Canteen. He will be in uniform. Since he committed the murder, he has been in action on Okinawa. The murder of Georgette Bauerdorf was divine retribution. Let the Los Angeles police arrest the murderer if they can-"  
In 1946, a man by the name Kenneth Raymond was arrested for the kidnapping, and possible murder, of six-year-old Rochelle Gluskoter. At the time of his arrest, he was asked about the murder of Georgette. He didn't admit to this crime and even after being described as a" one man crime wave "and to have had a history with robbery and assault, there was never enough evidence to charge him for her death.  
Robert George Pollock White was a man in San Diego who forced cloth down a 65-year-old woman's throat, similar to what happened to Georgette. He was said to have been in Los Angeles on the night of October 11th, 1944. Robert was interviewed but it didn't make any improvements to Georgette's case.  
One theory many people have is that the same mysterious person who killed Black Dahlia/ Elizabeth Short killed Georgette too. She was murdered in Hollywood just three years after Georgette and Elizabeth was also a growing movie star in Los Angeles. However, these connections are really the only ones that the two cases have. Elizabeth's death was a lot more brutal as she was cut into two and severely mutilated with a smile carved into her face. She also was not found dead in her home, but in a vacant lot near Leimert Park.  
Georgette Bauerdorf was buried in Woodlawn Cemetery located in the Bronx at her father's wishes. To this very day, her murder goes unsolved.