Henry's Louisiana Grill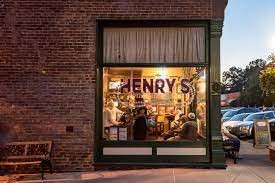 My father had described the restaurant to me on many occasions. He told me that just the appetizers filled the mouth and the mind with pure flavor, that when I tried their food I would be blown away by its glory, that of any creole restaurant in Georgia this was the absolute best. It means a lot. My own father, the former chef, who prides himself on his thorough ability to taste the most minute spices practically worshipped this food like I'd never seen before, so on a random Thursday night, even though I had an hour of homework I was hyped.
It was a cold rainy day on November 11th earlier this year. It took a 30-minute drive to get to that specific spot in downtown Acworth from Cartersville. Its architecture was very 1920's and the train station didn't hurt its look. Cute little stores and eateries tucked together wall to wall adorned the older brick walled street. The weather was sad, and sprinkles threatened our skin as we crossed the train tracks to see the restaurant. Much to my father's surprise the place was practically empty.  "Henry's" was written is curvy purple bordered letters on the window.. As we walked in, we were quickly seated. It looked like any other place you've been to. A few pictures on the walls. Regular booths and tables, and a notable theme of Mardi Gras. I also noticed that right in front of our table was some sort of fancy plaque addressing the chef, but unlike any place I've been to, was the smell. It was a sweet and savory aroma not unlike that of corn bread. A bubbly waitress came to our table and asked us what drinks we wanted. My father and I are cultured, so we got sweet tea. For my dinner he recommended to me the "shrimp creole" and ordered the same. They gave the option of a small or large plate, I wanted the leftovers, so I went for a large one, and before we knew it the sweet waitress took our orders and left to attend to her duties.
My father and I sat back and enjoyed the atmosphere for a moment.  Everyone there seemed to be smiling and laughing. The music was joyous. Something between the lights, the smell and the people made the place feel like a celebration. It was wonderful. Then I saw my father's eyes light up and the his idol pranced through a nearby doorway. Henry Chandler a critically acclaimed chef, who has won many praises for his work, came smiling and laughing with Mardi gras beads and camo pants. When he came to our table, he gently laid the beads over my head and then around my neck, saying something about how he doesn't like to throw them from so close, and then he attempted to Horeshoe the beads around my father's head. He missed the first shot and we all called out "Aww". He looked vaguely disappointed for a moment and then he smiled mischievously and grabbed another necklace "I never leave with a loss!" and then he threw it again and made it right around my dad's neck. Somewhere in the madness I hadn't yet noticed the cornbread on our table (and in my dad's mouth.) Henry then asked, "how are you liking it?" my father nodded respectfully "I love it. I am a huge fan of your restaurant." The man smiled right back at my dad and said, "I'm so glad to hear it" and then he politely left us. I couldn't help but feel happy. Something about watching my dad talk to his celebrity crush and the energy bursting in the room just lit up my soul.
The corn bread tasted delicious. The consistency was that of a soft cake, and it tasted just as sweet, but it still had all the ingredients and charm of your mother's homemade stuff. It was the best corn bread I've ever had, and that was just the appetizer. My food had a thick curry like substance with shrimp clearly in it poured perfectly over a lot of rice. The sauce was savory and delicious, and it was just the right amount of spicy, perfectly accentuating the flavor of the peppers and the shrimp. The rice was well cooked and mixing the two together made it even better. I felt with every bite that I wanted another, but it was so filling.
After the meal my father and I split a blueberry cobbler. I was convinced that if they did savory so well, they couldn't master the sweetness, but I was wrong. The cold of the ice cream and the warmth of the cakey cobbler below was mouthwatering and exquisite. It's no secret why Henry's has tons of 4- and 5-star ratings, why it's been visited by tons of food critics and why trip advisers say it's a must see. Henry's is a chef's dream, and for a regular person like me, it was an amazing experience.  Honestly, I would give it a 5 out of 5. Henry's is on the pricier end, but it is worth it.  If you ever find yourself with a little extra cash, I would highly recommend you go and give it a try.