Dear Chip #35: Do I Choose to Let Her Be Happy?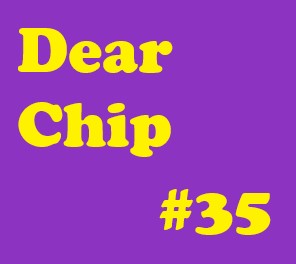 Dear Chip,
Recently, I was on vacation, but it was not just any vacation. It was one of those trips you have looked forward to for a long time because you were so excited, you had a great feeling about it and just could not wait to go. I imagined what the trip would look like in my head for weeks, but that is not what happened. It all started on the second day when me and my best friend (let us call her Ava) were walking in from getting lunch and walked right past a group of guys, but as we walked by one guy stood out (we will call him Ben). As me and Ava continued to walk, I held eye contact with Ben, until finally we had passed them. For the next three days I continued to see Ben without saying a word, but we always kept eye contact with each other. On the fifth night of our trip, me and Ava were playing in the arcade room, and I noticed Ben and his friends walking towards us. They continued to get closer until they were standing right in front of us. The group introduced themselves to us and for the last three days of the trip we were always with them. In those last three days, me and Ben became closer than anyone could of in that amount of time. It has been about a month since I saw Ben, but not a day has gone by we have not talked to each other. In the past week I found out Ben had started talking to Ava, and she is starting to like him. I do not know how to feel about this because recently I have started to like Ben, and I thought he felt the same. On the one hand I want to tell Ava how I feel and that he was mine first, but on the other hand she is my best friend and I want her to be happy too.
I guess what I am trying to ask is, do I tell Ava how I really feel and keep Ben to myself, or do I choose to let her be happy, and see Ben as just a friend?
Sincerely,
Confused Friend
Dear Confused Friend,
It seems you got yourself into the start of a high school movie, huh? I think the biggest problem is that you're seeing this situation as two options, both ending with one party disappointed. The thing is, you have no say in who Ben likes. He's obviously been talking with you for a long time, but that doesn't mean he's into you. In the same way, he doesn't like Ava just because he began talking to her. You don't need to try and win him over. If he wants you or Ava, neither one of you can change that. If you get Ava to "back off," for lack of a better term, he may just be hurt that someone he thought was a friend is blocking him out. However, I imagine that seeing him in a relationship just because you stood by would be difficult to deal with.
You need to expand your options and realize that it's not just about getting him. You can't have your cake and eat it too. It's about which relationship you value more. Are you desperate to keep your friend Ava or have a romantic relationship with Ben? You can't do anything until you figure that out and focus on it. If you value Ava, the obvious solution would be not to tell her. However, telling her doesn't have to come with hurting her feelings. You could simply tell her that, although you like him as well, you believe friendship is more important and would prefer that neither of you pursues his affection. It might be a complicated, maybe even idealistic agreement, but true friends should trust each other enough to keep that promise. The drama of a broken friendship is a lot to deal with, and lovers can lose interest quickly. On the other hand, best friends are there to stick with you through tough times, not just the honeymoon phase.
If you value your relationship with Ben more, you must prioritize him. Tell Ava how you feel as empathetically as you can and how it started. She may be hurt, but she'll be in the same position you were in before. Don't try to force them apart; just keep your connection with him. In the end, if he likes you, he'll come to you. Since you already suspected he likes you, there's a good chance you're right. Love is confusing, but it shouldn't need to be all pain and strife. If it is, it may just not be love. Just make sure you stay focused on what you need to feel fulfilled.
Sincerely,
Chip