This is Halloween…2020!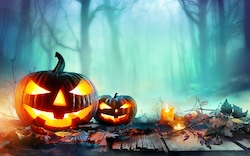 Halloween is just around the corner, but what does that mean for us during this pandemic? Covid has ruined many things this year, but Halloween is one of the top holidays. So, what are people planning on doing?
Halloween is one of the most popular holidays in the US. Almost every year you'll find decorations across people's lawns, and many children wait for the day where they can dress up and get a bag full of candy, but what exactly can people do during this pandemic?
Many believe everyone has split opinions about this. Unlike thanksgiving and Christmas which usually involve family gatherings, Halloween requires people to walk around the streets and go to other's doors to ask for candy, two things that go against the rules of social distancing.
Though the Hershey company has started their part in helping this year's Halloween happen while being safe. They worked with health experts to create a map of the U.S. marking which places have the lowest and highest cases, and even more information on what you should. Green suggesting regular trick or treating and a limited number of guests for a Themed costume party, while red suggests staying home with your family and do Halloween activities.
The Governor of New York has stated that he won't ban trick or treating or stop others from doing it. He simply states he'll suggest his own advice and let you decide what you will do. Banning Halloween would be a big thing, and all he can do right now is offer advice to those who want to continue celebrating this spooky holiday. And people would believe this must be the mindset for a lot of governors across the U.S.
Stores all around the US plan on also doing their part in getting through this Halloween. A lot of them such as Walmart, Walgreens & CVS plan on selling smaller bags of candy for family gatherings and yard parties. Walgreens also has decided on selling a variety of indoor and outside decorations.
But despite all the hassle to make this Halloween the best it can be even during this pandemic we can look forward too a Blue moon. A rare lunar event where there will be a second full moon of the month. It seems Halloween won't be such a disappointment this year like many expected.