The National Monument for Peace and Justice in Montgomery: Shades of Violence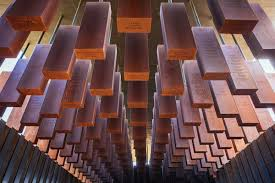 More than 4,400 African Americans were hanged, burned, shot, and/or drowned to death by white mobs between the years 1877 and 1950. Up until now, there has not been any national memorial acknowledging all these racial terror lynchings, until now.
On a six-acre site overlooking Montgomery, the National Monument for Peace and Justice is a place to soberly remember and reflect on America's violent racial past and help make sure history does not repeat itself. 
The site includes 800 six-foot monuments to symbolize the thousands of victims, one for each county in the United States where lynchings happened. Names of victims are engraved on each column.
Construction on the monument started in 2010 after EJI staff completed research on the many undocumented lynchings in the American South. The staff was not only interested in the lynchings themselves but also the fear and trauma this violence created within the black community. EJI staff have also begun a project to memorialize lynching sites, taking soil and putting up public markers, to more accurately reflect the violence of the country's racial history. 
The "Memorial for Peace and Justice" was created to provide a meaningful site where people can gather and reflect on America's history of racial inequality. The EJI staff partnered with artist Akoto-Bamfo to create this memorial.  It also includes writings from Toni Morrison and Elizabeth Alexander, as well as a quote from MLK, Jr. 
The memorial experience doesn't end when the Civil Rights era began.  There is also a sculpture by Dana King dedicated to the women of the Montgomery Bus Boycott. The memorial also bears witness to cases of police brutality and racially biased criminal justice, all expressed in a work done by Hank Williams Thomas.  
Montgomery's  Memorial for Peace and Justice provides a much-needed monument to the victims of racial inequality, both in the Deep South and throughout the United States. .