The Fall of a Man who Gave Rise to a Movement
The Harvey Weinstein Verdict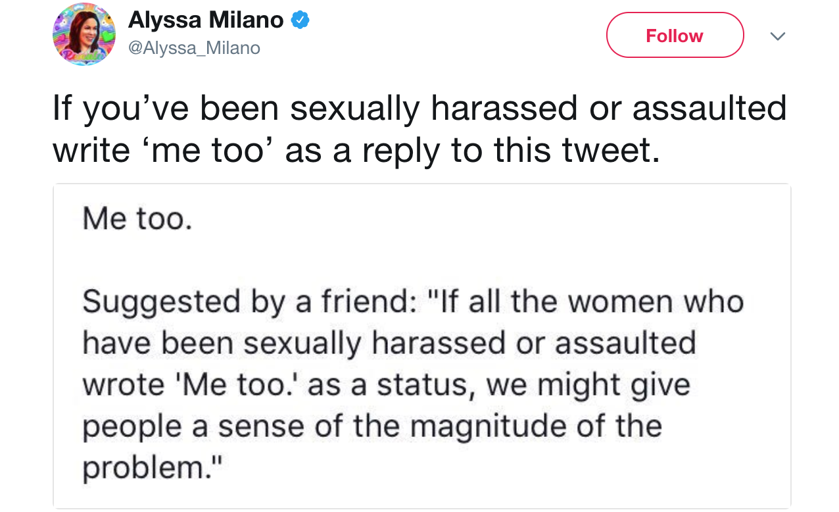 On Monday, February 24th, 2020, one of the most influential men in the film industry was convicted of one count of sexual assault and one account of third-degree rape.
Harvey Weinstein, father to 5 children from two different marriages, will go to prison for the horrendous acts committed against Mimi Haleyi, one of his production assistants, and actress Jessica Mann. In a trial that took a week of careful deliberation from jurors in a New York Court, the verdict was reached, which was a beam of hope women and men who stand by the #MeToo movement.
The #MeToo movement began in 2006 on the social media platform MySpace by activist and sexual assault survivor Tarana Burke. In October 2017, actress Alyssa Milano posted on Twitter the following message: "If all the women who have been sexually harassed or assaulted wrote 'Me too.' as a status, we might give people a sense of the magnitude of the problem." She posted this tweet in response to an accusation against an extremely powerful man in the industry in which she works: Harvey Weinstein.
Since that day two and a half years ago, the #MeToo movement has magnified seemingly unlike any other political movement since social media began. Victims of sexual assault have reposted this tweet and reclaimed some of the power that their offenders had taken from them by connecting with other victims, proving they are not alone in their struggle and exposing their offender's inexcusable acts.
According to a BBC article from 2018 analyzing the affect of the #MeToo movement, within the first 24 hours of Milano's tweet, half a million people had responded. It has seen the downfall of numerous sexual assaulters in the past three years, including Bill Cosby, Larry Nassar, and R. Kelly.
There has been criticism against the #MeToo movement as well… it is the belief of some that the movement has resulted in increased false accusations, as courts and judges may feel pressured to believe accusers before looking at all of the facts. In a study complied by the UK's Home Office, out of 2,284 rape cases, 216 were found to be false. That is roughly 9% of the 2,284 cases, which is a decently small amount compared to the amount of cases confirming sexual assault.
In addition to a supposed increase in false accusations, there have been concerns as to whether or not the movement is traumatic for rape victims, as just
the mention of rape could trigger post-traumatic stress. It has also been said that the movement excludes minorities, sex workers, and incarcerated women who are victims of rape.
Although it seems that after two and a half years of waiting for Haleyi and Mann, justice was finally served with regard to Weinstein. But there is more than meets the eye in his situation. Out of the six accusers testifying in New York, four of them were there to emphasize the serial nature of Weinstein's sexual acts. But the list of accusers doesn't stop there… there have been over 100 women, who range from actresses to production crew to employees of Weinstein, who have said that Weinstein has either made advances on them, raped them, or denied them an opportunity or gave them a special opportunity solely based on their sexual relationship or lack thereof.
So, what is next for Harvey Weinstein? His sentencing is set for March 11th, but there are charges filed against Weinstein in Los Angeles for rape and sexual battery occurring over a two-day period in 2013. When Weinstein goes to LA to fight the allegations, he will already be a convicted rapist, which certainly will not help his case.
Thanks to the bravery of women across the film and political activism spectrum, the past 14 years has been a time where women and men have stepped forward to seek justice for the wrongs committed against them. Rose McGowan, an actress who accused Harvey Weinstein of rape as well, posted after the conviction:
"Today is a powerful day & a huge step forward in our collective healing."
The conviction of Harvey  Weinstein is an advance toward a future where women can come forward and expose what has happened to them. It is an advance toward a future where rapists get the punishment they deserve.