Pay for Play: Players and Coaches Comment on the Controversy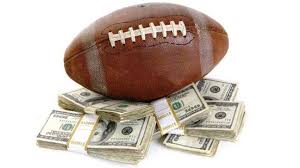 Living in the South, most fall Saturdays consist of watching college football.  Although the NFL has much more talented players, college football is more popular in this part of the country. Collegiate fans are diehard and often more loyal than NFL fans.  
The atmosphere around college games is different, too. Fans in student sections paint their faces to show their undying loyalty. With all the fans that elite athletes attract, many argue athletes should be paid. The athletes make so much money for their schools, but they themselves aren't making money.  
The big question is: Should college athletes get paid?  
As of right now, student athletes aren't even able to make money off social media platforms such as YouTube. In fact, the NCAA took a Central Florida (UCF) kicker's scholarship because he made YouTube videos. 
The kicker, Donald Delahaye, had been making the videos since age 12; however, when he uploaded a video of him kicking trick shots on twitter, a problem developed with both his coaches and the NCAA.  Delahaye (known as Detroyer on YouTube) had posted a video doing a giveaway, and when his coaches found out, he had to immediately delete it and pick either YouTube or football. He picked YouTube.  
This is just one controversy among many.  
The Fair Pay to Play Act, first passed in California in September of this year, allows athletes to be paid for endorsements. Many other states are following California's example.  
Originally the NCAA was against the bill, as they claimed it was unconstitutional. However, in late October they announced they would allow student athletes to be paid for their image and likeness. 
In preparation for this article, I interviewed five people, including 3 student athletes, a D-line coach for the school, and a former SEC college quarterback.  
When asked if he believes collegiate athletes should be paid, Canes' running back Quante Jennings replied: "I do think college players should be paid because the colleges are getting money off their name, so why shouldn't the athletes be able to as well."  
Jacolby Knight, a Canes' basketball player, agreed: "Yes they should be paid… college is hard." 
Canes' cornerback Britt Walker, though, added a caveat: "I think they should kind of get paid, but not directly by the University. I think they should get payed if someone has their jersey because the University pays for their schooling, food, and housing." 
Coach Candela had mixed feelings, "I don't think they should be paid for their jerseys because the university already makes money off them. They should be able to get paid for autographs and maybe being in a videogame. If the University pays the athletes directly, the school won't be able to pay for other things, such as housing, food, gear, and schooling." 
Aaron Murray, former Georgia quarterback who lived four years in the college stadium spotlight (and former NFL athlete and soon to be XFL player), had a lot to say on the matter:   
"Yes I think the need for college athletes to be paid is long overdue. Yes, they are on scholarship, but there is a lot they are doing for the school as far as the money they are generating on Saturdays. I'm not saying they should be paid like NFL players, but they should be able to make money off their image and likeness. Whether it's through a video game, a car dealership, a BBQ place, a signing." 
Murray went on to add, "I wish this would have come along while I was in college. I'm glad the NCAA has finally recognized that there is a need for this and that they are going to put the athletes first." 
When asked about possible issues, Murray continued, "I believe it will [need] to be regulated because remember these are still kids at just 18-22 years old. The University should act as the athlete's agent, so they can manage their time wisely. This will make sure there is no corruption, and this will also allow the University to get a kick out of it.  
Murray also mentioned that this would only impact the most-popular players. 
US House Rep. Anthony Gonzalez, an Ohio Republican and former wide receiver for the Ohio State Buckeyes, has said he would consider introducing a bill at the congressional level. 
Though the changes most likely won't be in effect until 2022 or 2023, ultimately, this will this change the game of football. What remains to be seen is if it will change the game for the better or the worse.