Air Pods: the Mania and the Menace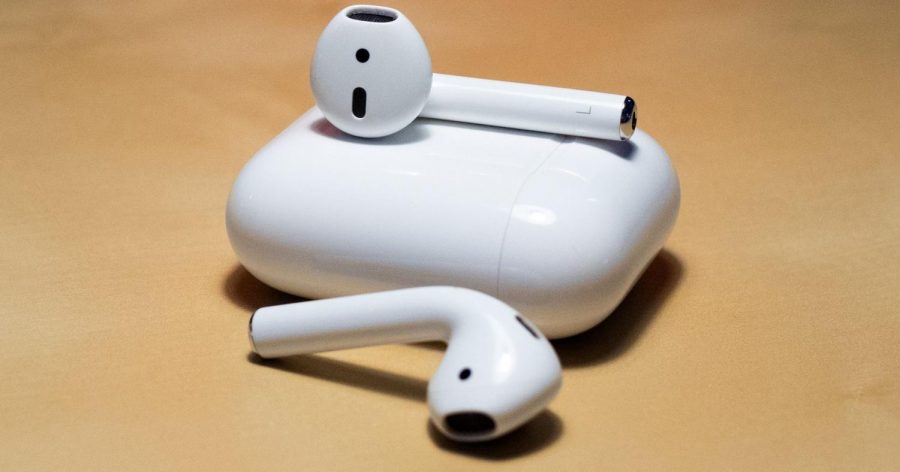 In years past, the newest and most efficient way to listen to music and podcasts or watch movies on our personal devices is by headphones or earbuds. Recently, something new has appeared and is extremely popular — particularly among teens,
Apple, as we all know is a very popular distributor of technology, computer software, and online services. Their newest technology, developed in December of 2016, are AirPods, and the entire Cartersville student population either has them or wants them. 
Over 65.9 million have sold since 2017. The standard cost of AirPods is $160.00 without the portable charging case and $200.00 with the charging case. The AirPod pros cost $250.00.  
Though they may be an everyday essential for teens, they do come with some evolving problems. Most people prefer their AirPods with the charging case: one, because it's easier to store them and not lose them; and two, because they are on a constant charging cycle when in the case (given the case is charged).
Some people who have purchased the Air pods have complained of s shortened battery life after only a few months.
AirPods are convenient for a number of reasons.
People like them for workouts because there aren't any cords or obnoxious bulky headphones.
Students everywhere have also discovered how easy it is to sneak their music during class or class changes. Prior to AirPods, it was almost impossible to listen to your music session during class. The cords gave you away. Right or wrong, they've become a modern distraction in schools these days.
AirPods are also great for hands-free calls while driving. During phone calls, one pod is used for a microphone and the other for listening. 
Having AirPods in school can cause more than just distractions. These days, the way young adults judge, if you don't have them, then people assume you're poor and kids can be mean.   
AirPods also cause a lot of drama because they are often lost or stolen. The cost and size of AirPods make them easy targets. The cost of replacing an AirPod is $69.00, which is not a small chunk of change. To help cut down on the thefts, Apple has come up with a couple solutions. There is now a case for the AirPods. These cases are stylish and come with clips so that they can hang onto things like belt loops, purses, or bookbags. There is also an internal tracking devise, much like track my iPhone, to locate a stolen set. 
Moral of the story of AirPods are pests; AirPods are flawed; and AirPods are bait. If you must keep your AirPods close, but no so close that they get snatched up at school by a peer, a teacher, or an administrator.