First Month of Baseball Under the Braves' Belt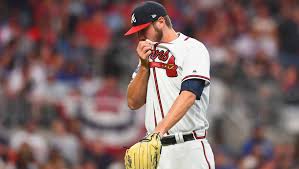 After the first month or so of baseball, the Braves are at .500, with 14 wins and 14 losses. The record is definitely not due to the hitting, though.
The Braves are, in fact, averaging more than 5 runs per game. Their rough start is due to pitching. Though the starting pitching has been streaky, the bullpen is the biggest concern.
Through the first 28 games of the season, the Braves have a 4.50 bullpen ERA in 102 innings pitched.  The bullpen has indeed allowed a lot of hits, but finding the strike zone seems to be the issue. The bullpen has the most walks in baseball with 65.
A couple players such as Shane Carle and Jesse Biddle have been back and forth from the minor league Gwinnett Stripers because of inconsistency. As of late though, Atlanta traded for Jerry Blevins, called up Jacob Webb, and Luke Jackson has been killing it with a 2.57 ERA.  
Dansby Swanson knew coming in that this was a make or break year for him, so he has been killing the baseball. In 92 at bats he has hit 5 bombs, drawn 12 walks, and driven in the team, leading with 22 RBIs. The breakout start for the young shortstop has helped put runs on the board for the team.
Other young players such as Acuna, Albies, and Camargo have helped the Baby Braves, as well. Veteran star Freddie Freeman has begun the year by getting on base in 27 straight games. The 1st baseman has one of the best on-base percentages in the National League
The Braves are hitting very well, but If the bullpen doesn't get any better, Braves' fans can kiss a playoff bid goodbye.