Canes Clinch Region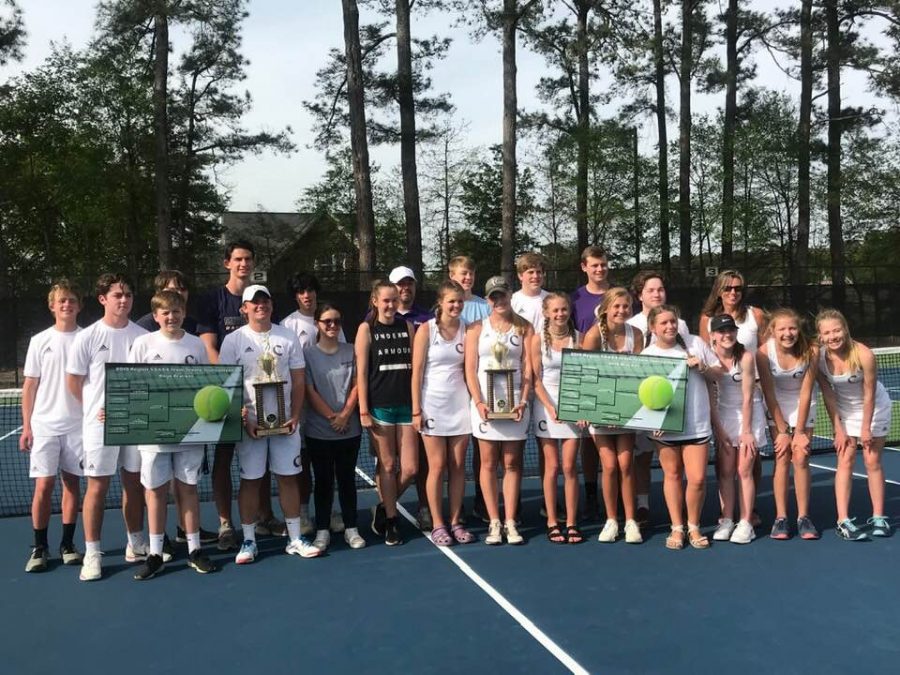 Both the Canes and the Lady Canes were able to defeat the LaGrange Grangers awarding them both a region title.
Lady Canes entered the region tournament as a No. 2 seed due to a heartbreaking 3-2 loss against the LaGrange Grangers in the season opener.  The Lady Canes dominated the first two rounds of the tournament eliminating Sandy Creek and Cedartown, leading them to the championship match where the LaGrange Grangers were waiting for them.  
The Lady Canes came prepared and were able to upset the No. 1 seed Grangers in a close 3-2 victory.  
Ashley Popham was able to breeze through her opponent winning both sets 6-0 at line 1 singles. At second singles, Emily Bush was able to secure a 6-1, 6-3 victory.
With the fall of Cartersville's line 3 singles and line 2 doubles, the match was tied at 2-2, making the line 1 doubles match the deciding match. At line 1 doubles for the Lady Canes, Lydia Wiedetz and Alice Terry were able to pull out a 6-4, 6-4 victory, making them region champions and winning them a No. 1 seed for the state tournament.  
The Canes entered the region tournament as a No. 1 seed, awarding them a bye into the semi-finals of the seven-team tournament.  The Canes were easily able to achieve a 3-0 victory over Central Carroll in the semi-finals putting them in position to play LaGrange in the championship match.
The Canes had defeated the LaGrange Grangers earlier in the season and were looking for a repeat to become region champs.
 Luke Kottemann at line 2 singles along with John Blackhall and Jackson Cline at line 2 doubles were able to win in straight sets for the canes winning 6-1, 6-3 and 6-4, 6-3 respectively.  Will Allen at line 1 singles for the Canes battled a close match. He dropped the first set in a close tiebreaker but was able to come back winning the final two sets 6-3, 6-1. This gave the Canes the third win they needed to defeat LaGrange 3-0 crowning them region champs and a No.1 seed in the state tournament.