Smith's 2019 NFL First Round Grades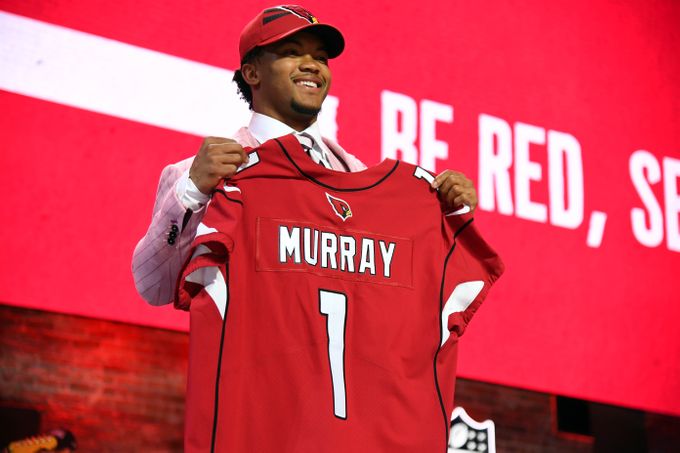 Thirty-two players were welcomed to the NFL last night in the first round of the 2019 NFL Draft. I graded every pick and gave my top three players still on the board at each position.
1.) Arizona Cardinals – Kyler Murray, Quarterback, Oklahoma
Grade: B+
Don't get me wrong, I love this pick. Murray should thrive under Kliff Kingsbury's offense, but he isn't really a need. Their top pick from last year, Josh Rosen, is not a bad QB. Unfortunately, he was put in a situation where he had an injury-riddled O-line and no true weapons except for the ageless Larry Fitzgerald and David Johnson. Murray is by far the best QB in the class, but I think the Cards should've given Rosen a chance.
2.) San Francisco 49ers – Nick Bosa, Edge Rusher, Ohio State
Grade: A+
The 49ers hit the nail on the head and grabbed the best overall player in the draft. Bosa will excel on the same line as Dee Ford and Deforest Buckner.
3.) New York Jets – Quinnen Williams, Defensive Tackle, Alabama
Grade: A+
Instead of drafting for need and grabbing an edge rusher, the Jets selected the best player available in Quinnen Williams. Pairing him with Leonard Williams gives them the scariest interior defensive line in the AFC East.
4.) Oakland Raiders – Clelin Ferrell, Edge Rusher, Clemson
Grade: B-
Ferrell is a very good edge rusher and is obviously the guy that Oakland wanted, but I feel that they could've traded down and still gotten him. Sexier options included Josh Allen, Ed Oliver, and Devin White.
5.) Tampa Bay Buccaneers – Devin White, Linebacker, LSU
Grade: A+
In my opinion, White is a top four overall player in this draft class. He is easily the best inside linebacker in this class and fills the hole that Kwon Alexander left.
6.) New York Giants – Daniel Jones, Quarterback, Duke
Grade: D+
I thought this was a bit of a reach, but the Giants clearly liked him more than Haskins or Lock. I don't believe that Jones can be a franchise QB. He's more of a game manager; he won't win you the game but he won't lose you the game either. He has a pretty good arm, but seems timid and scared to make mistakes. I believe that New York could've gotten Ed Oliver or Josh Allen here and still gotten Jones at pick 17.
7.) Jacksonville Jaguars – Josh Allen, Edge Rusher, Kentucky
Grade: B+
Allen is one of the more versatile players in the draft. He's an elite pass-rusher and is good in coverage. He can definitely help the Jags now, but he seems like more of a pick for the future replacement of 33 year-old Calais Campbell.
8.) Detroit Lions – TJ Hockenson, Tight End, Iowa
Grade: A
Regarded by many as the safest pick in the draft, Hockenson brings a lot to the table in Detroit. He'll be a great target for Matthew Stafford, with great hands and good speed, and is a phenomenal blocker.
9.) Buffalo Bills – Ed Oliver, Defensive Tackle, Houston
Grade: A
The Bills got very lucky by having Oliver available at pick 9 and they made the right move by selecting him to strengthen their defensive line. The only reason this is not an A+ is because offensive line was a bigger need, but Oliver is a special player.
10.) Pittsburgh Steelers (trade with Broncos) – Devin Bush, Linebacker, Michigan
Grade: B
I like the pick, but the Steelers gave up a lot to get him. Bush will help them fill the hole that Ryan Shazier has left ever since his devastating injury.
11.) Cincinnati Bengals – Jonah Williams, Tackle, Alabama
Grade: B+
In my opinion, Williams is the second best offensive lineman in this draft. He's a very experienced tackle that faced tough SEC competition for three years. It looks like he'll play tackle for the Bengals instead of guard like most thought he would.
12.) Green Bay Packers – Rashan Gary, Edge Rusher, Michigan
Grade: B-
I was a bit surprised that Gary went this high due to his injury. He has a torn labrum in his shoulder that he should play through during the season, but will most likely need surgery in the offseason. I was also surprised that the Packers opted for a pass-rusher over help for Aaron Rodgers after they spent a combined $118 million on pass-rushers in free agency. Gary is a phenomenal athlete and has tremendous upside, but the Packers had more pressing needs than edge rusher.
13.) Miami Dolphins – Christian Wilkins, Defensive Tackle, Clemson
Grade: A-
Before the draft, Wilkins was thought to be a potential top-10 pick, but fell to the Dolphins at 13. He brings great athleticism, leadership, and versatility to a Miami team in a complete rebuild mode.
14.) Atlanta Falcons – Chris Lindstrom, Guard, Boston College
Grade: C+
The Falcons had to grab a guy to help protect Matt Ryan and they got a great one in the top-rated guard in this class. Lindstrom was an All-ACC selection last season and will help the Falcons tremendously in pass protection.
15.) Washington Redskins – Dwayne Haskins, Quarterback, Ohio State
Grade: B+
While I don't like Haskins better than Murray, I like the fact that the Redskins didn't feel the need to trade up and get him. Haskins gives Washington a security blanket and a good option for the future with all of the unsureness around Alex Smith.
16.) Carolina Panthers – Brian Burns, Edge Rusher, Florida State
Grade: C
I don't like this pick, especially with Montez Sweat on the board. Burns reminds me a lot of Vic Beasley coming out of college; not a whole lot of moves, but he'll beat you with his speed. I'm not sure how well that'll work in the NFL.
17.) New York Giants (via Browns) – Dexter Lawrence, Defensive Tackle, Clemson
Grade: B+
Personally, I think they should've gone with an edge rusher, but Lawrence is a great pick. He's HUGE at 6'4" 342 lbs. He'll be a great replacement for Damon "Snacks" Harrison.
18.) Minnesota Vikings – Garrett Bradbury, Center, NC State
Grade: A
Bradbury is my number one offensive lineman in this draft. His combination of athleticism and power make him very unique. The Vikings did a great job at staying in their spot and grabbing a staple on their O-line for years to come.
19.) Tennessee Titans – Jeffery Simmons, Defensive Tackle, Mississippi State
Grade: A-
Without the ACL injury, he's drafted top 10. Unfortunately, Simmons tore his ACL during offseason workouts, causing him to slide to 19. He's a great player, but will most likely miss most of his rookie season.
20.) Denver Broncos (trade with Steelers) – Noah Fant, Tight End, Iowa
Grade: B+
The Broncos did a great job at adding two additional picks and still getting a guy that they wanted. Fant is an athletic tight end that is basically just a receiver in a tight end's body. He's not a great blocker, but will be a great target for Joe Flacco.
21.) Green Bay Packers (trade with Seahawks) – Darnell Savage Jr, Safety, Maryland
Grade: B-
Savage is a very good player who saw his draft stock surge leading up to the draft. Green Bay gave up two fourth round picks for him, but it should be worth it in the end.
22.) Philadelphia Eagles (trade with Ravens) – Andre Dillard, Tackle, Washington State
Grade: B
The Eagles grabbed a pick for the future here, but it was worth the trade up. Dillard would've gone to the Texans at 23 is they didn't trade up and he'll eventually be a great replacement for the 37 year-old Jason Peters.
23.) Houston Texans – Tytus Howard, Tackle, Alabama State
Grade: C
Howard has lots of potential and should be a good starter for the Texans. I question the choice of selecting him over Jawaan Taylor out of Florida and I think he would've been available in the second round.
24.) Oakland Raiders (via Bears) – Josh Jacobs, Running Back, Alabama
Grade: B+
Jacobs is the best running back in the class and seems to be made for the Raiders. He's a powerful back with a rough backstory and should be the bonafide starter in Oakland. This was a need for the Raiders with Isaiah Crowell being the starting back before the draft.
25.) Baltimore Ravens (trade with Eagles) – Marquise Brown, Wide Receiver, Oklahoma
Grade: A
Brown is my favorite receiver in this class and the Ravens did a great job at trading down and still getting him. With no weapons for Lamar Jackson besides tight ends, Brown should be the number one receiver for Baltimore in his rookie year.
26.) Washington Redskins (trade with Colts) – Montez Sweat, Edge Rusher, Mississippi State
Grade: A
I had Sweat going top 10, but his heart condition really had teams worried. This is an absolute steal by the Redskins, but they did give up two second round picks. He'll be a phenomenal replacement for departed free agent Preston Smith.
27.) Oakland Raiders (via Cowboys) – Johnathan Abram, Safety, Mississippi State
Grade: B-
I like Abram, but I just don't know how he's going to fit in with the Raiders. Oakland has safeties Lamarcus Joyner and Karl Joseph already, but the could put Joyner at nickel and play Abram at free safety.
28.) Los Angeles Chargers – Jerry Tillery, Defensive Tackle, Notre Dame
Grade: B
Tillery is a very long defensive tackle at 6'6". He will help bolster a defensive line that already features Joey Bosa and Melvin Ingram. Good job by the Chargers to stay at their pick and not reach to get anyone.
29.) Seattle Seahawks (via Chiefs) – LJ Collier, Edge Rusher, TCU
Grade: C
This seemed like a bit of a reach, but this was a pick for need. Collier helps to fill the hole left by Frank Clark, but could've been available in the second round.
30.) New York Giants (trade with Seahawks) – Deandre Baker, Cornerback, Georgia
Grade: C+
I like Baker, but he's the third best corner on my board and the first two haven't been taken yet. Baker is not super athletically gifted, but his film speaks for itself. Greedy Williams or Byron Murphy would've been sexier picks, but Baker isn't a terrible one.
31.) Atlanta Falcons (trade with Rams) – Kaleb McGary, Tackle, Washington
Grade: F
This is a terrible trade. I understand the Falcons want to build up their O-line, but they traded a second and third round pick for a guy who could've been available in the third round. It seems that they should've taken one of the top corners to help out a subpar secondary.
32.) New England Patriots – N'Keal Harry, Wide Receiver, Arizona State
Grade: B-
I like Harry a lot and he gives Tom Brady another guy like Josh Gordon. Harry is a big, physical receiver who is a solid route runner. He doesn't have great speed but he makes up for that with his ability to grab 50/50 balls.
Top 3 Available By Position
Quarterback
Drew Lock, Missouri
Jarrett Stidham, Auburn
Ryan Finley, NC State
Running Back
Darrell Henderson, Memphis
Justice Hill, Oklahoma State
Miles Sanders, Penn State
Wide Receiver
DK Metcalf, Ole Miss
AJ Brown, Ole Miss
Parris Campbell, Ohio State
Tight End
Irv Smith Jr, Alabama
Kahale Warring, San Diego State
Jace Sternberger, Texas A&M
Offensive Line
Jawaan Taylor, Florida
Cody Ford, Oklahoma
Dalton Risner, Kansas State
Edge Rusher
Jaylon Ferguson, Louisiana Tech
Zach Allen, Boston College
Oshane Ximines, Old Dominion
Defensive Tackle
Dre'Mont Jones, Ohio State
Khalen Saunders, Western Illinois
Tristen Hill, UCF
Linebacker
Mack Wilson, Alabama
Te'von Coney, Notre Dame
Tre Lamar, Clemson
Cornerback
Greedy Williams, LSU
Byron Murphy, Washington
Rock Ya-Sin, Temple
Safety
Chauncey Gardner-Johnson, Florida
Nasir Adderley, Delaware
Taylor Rapp, Washington