Girls Wrestling Comes to Cartersville… and Goes to State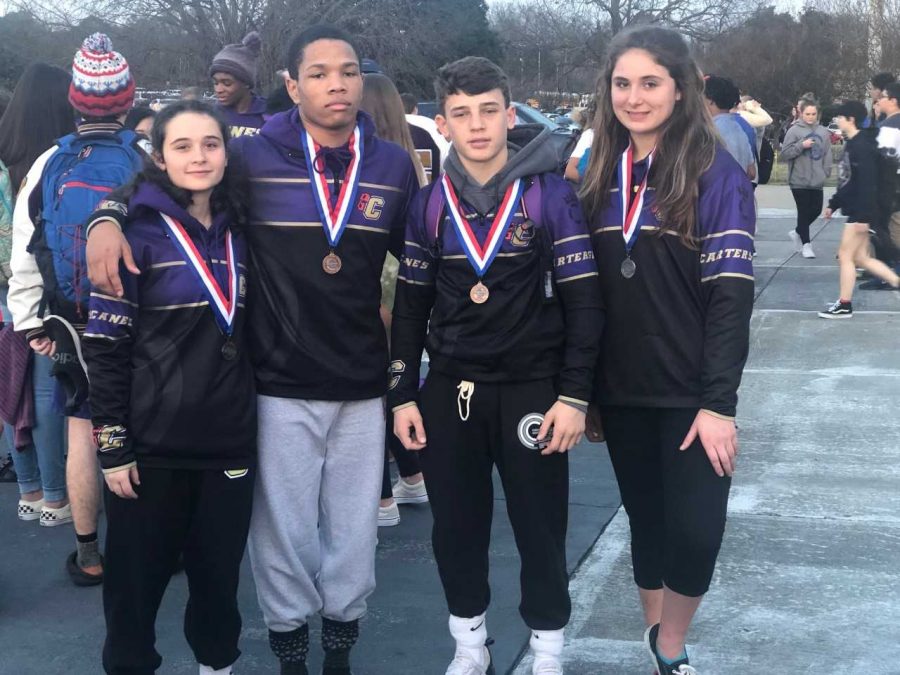 Cartersville High School began a new Girls' Wrestling Team during the 2018-2019 school year. Although it was new and full of first-year wrestlers, the Canes were able to experience a lot of success.
In total, there were 10 girls involved with the program throughout the course of the year, with 9 finishing the season: Elora Waterman (freshman), Raven Waterman (junior), Maci Cagle (freshman), Destiny Smith (junior), Riley Payne (freshman), Aisia Swim (freshman), Gabby Walker (sophomore), Paige Nelson (sophomore), and Stephenie Pence (sophomore).  
Of these, 5 made it to state: Gabby Walker, Riley Payne, Aisia Swim, Elora Waterman, and Paige Nelson. All were sectional champions. 
Elora Waterman had a bye her first round. She won her first match against a girl from East Hall High, Elora then lost against girls from Walton and Hiram. After those two losses, she won her placing match against a girl from Pike, winning her fifth place for the 95lb weight class. 
Paige Nelson, who had a bye for her first round, won her next two matches against girls from Alexander and Newton. Although she lost the title match against a girl ranked 15th in the nation from Hiram, the run earned Paige second place for the 166lb weight class. 
Overall, the Cartersville girls' team placed fourth out of around 90 teams in the first-ever GHSA Girls State Traditional Championship. With no returning seniors and hopefully a couple of new girls joining, head wrestling Coach Gayton is very excited to see what the girls' team will bring next season.