Canes Baseball Wins Bartow County Tournament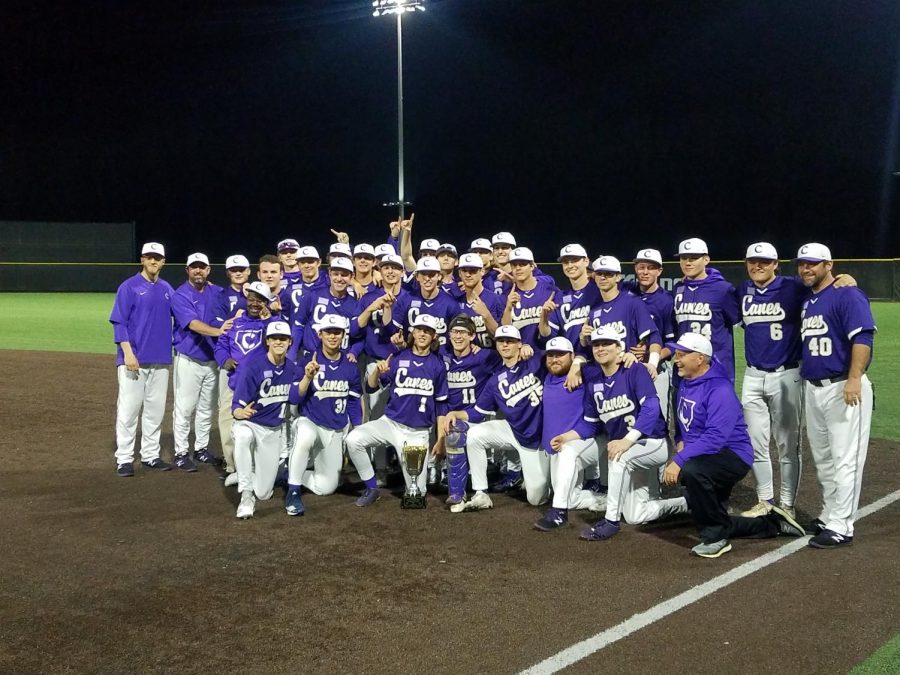 The Cartersville baseball team participated in the Toyo Tires Battle for Bartow Baseball Classic over the weekend and won the tournament at Lake Point. The Canes played three games over the two-day tournament with a 3-0 win over Kennesaw Mountain, a 9-3 win over Pepperell, and a 9-4 win over Cedartown in the championship. Cartersville had five players on the all-tournament team including the top two individual awards. Senior Mason Barnett won Most Outstanding Pitcher, senior third baseman Brant Smith won Most Outstanding Hitter, and second baseman Josh Davis, center fielder Preston Welchel, and pitcher Gage Morris were also named to the team.
The Canes started the tournament on Friday, March 1, against Kennesaw Mountain (6-2-1). Senior pitcher Mason Barnett started the night on the mound for Cartersville. Barnett finished the night with eight strikeouts in five innings. First baseman JP Martin scored the first run for the Canes with a solo home run to deep center; his second homer of the year. A single by second baseman Josh Davis brought left fielder Ian Inaba home from third, then a walk by third baseman Brant Smith pushed in courtesy runner Davis Williams with bases loaded. Pitcher Gage Morris finished out the game with two strikeouts in the last two innings.
Cartersville moved on to play Pepperell (2-5) in the semifinals on Saturday. The Canes started out hot with a double by Josh Davis right out of the gate. With bases loaded, Brant Smith hit a sacrifice-fly to bring Davis home. Senior Cohen Wilbanks pitched in this game, throwing four strikeouts in four innings, but allowing three runs that included a two-run homer. Cartersville scored again in the third inning with Mason Barnett, now playing first base, hitting a triple over the center fielder's head that scored shortstop Jordan Wilkie. Brant Smith then hit a double to score Barnett. JP Martin, now at catcher, hit a sacrifice-fly to score Smith and the Canes scored three runs in the third. Cartersville scored five more runs and continued to pitch well. Gage Morris threw two strikeouts in the fifth and sixth innings and Reece Thompson closed out the game with two strikeouts in the seventh. Brant Smith finished the game 3-for-5 with three doubles and two RBI's and Mason Barnett finished 2-for-4 with a triple, a single, and three RBI's.
Saturday night was championship night, as the Canes faced region rival Cedartown (5-2). Senior Logan Martin pitched for Cartersville, throwing eight strikeouts in 4 ⅓ innings and having a three batter-three strikeout inning in the fourth. Center fielder Preston Welchel put the Canes on the board first, with a solo home run in his first at-bat. After a triple by Mason Barnett, Brant Smith decided to copy Welchel. Smith hit a two-run homer to give the Canes a 3-0 lead in the third inning. The bats really started heating up in the fourth, with JP Martin hitting a deep triple to left field to start the inning off with a bang for Cartersville. Martin scored after Ian Inaba grounded out at first. With runners on second and third, Josh Davis hit a double that scored both runners. The Canes weren't done scoring yet, as Davis was pushed home after Preston Welchel walked with bases loaded. Cartersville scored two more runs in the fifth off of another double by Josh Davis. JP Martin relieved Logan Martin in the fifth and threw three strikeouts in 1 ⅔ innings. Ian Inaba closed out the game for the Canes, throwing two strikeouts in the seventh. Josh Davis went 2-for-4 with two doubles and four RBI's and Cohen Wilbanks went 2-for-3 with a single and a double.
Cartersville moves to 7-1 on the season and is the number one ranked team in Class 4A. The Canes will travel to Hoover, Alabama on Thursday, March 7, to play in the three-day Perfect Game High School Showdown tournament and take on Bob Jones High School that night.