Canes Beat the Fifth Ranked Team in the Country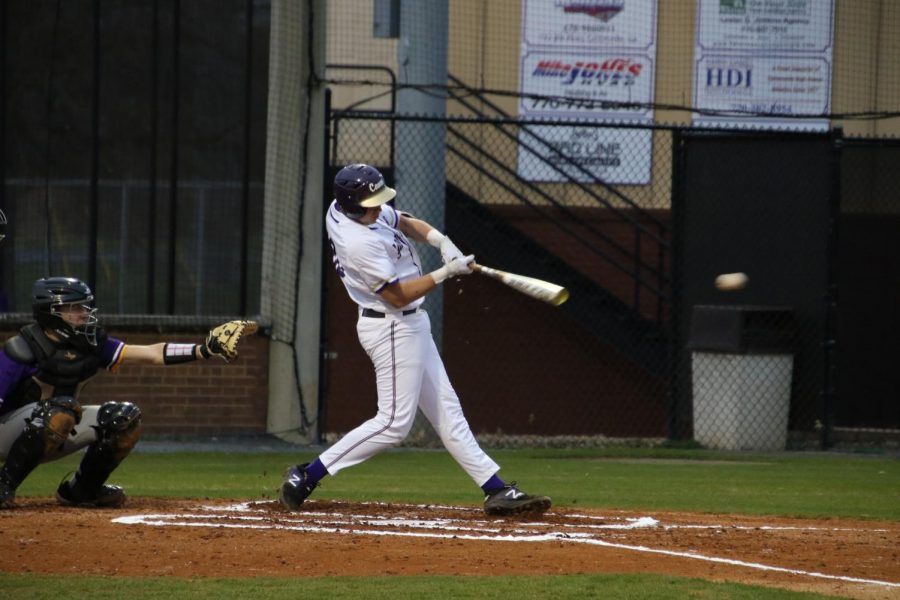 It was a big night for the Cartersville baseball team on Saturday, February 23. The Canes defeated Blessed Trinity, the fifth-ranked baseball program in the country, 8-2 at Lake Point.
Mason Barnett started the night on the mound for the Canes. Blessed Trinity took a 2-0 lead after two innings due to errors and poor play overall by Cartersville. After an encouraging come-to-Jesus meeting with Coach Tucker, the Canes turned it on.
Mason Barnett threw two strikeouts in the third and right fielder Kolby Adams caught a pop-fly to bring the Canes to the plate. Cartersville did whatever was needed to get on base and quickly found themselves with the bases loaded and only one out. Senior third baseman Brant Smith stepped up to the plate and took full advantage of the opportunity he was given. Smith smacked a ball through the gap that scored two runners, tying the game at two.
After three consecutive outs by Blessed Trinity, the Canes came out with bats on fire. They continued to find ways to get on base. A Jordan Wilkie single scored one runner, a sacrifice fly ball by Brant Smith scored another, then a walk by JP Martin with bases loaded pushed Jordan Wilkie home.
Mason Barnett's night was over after eight strikeouts in five innings. Senior pitcher Gage Morris started the sixth inning off hot, with an immediate strikeout. After a nice throw to second base by catcher JP Martin to catch a runner stealing and a pop-fly caught by left fielder Ian Inaba, the Canes came back up to the plate. Shortstop Jordan Wilkie singled in the first at bat of the inning for the Canes, then senior center fielder Preston Welchel was walked. With runners at first and second, JP Martin came up to the plate with fire in his eyes. Martin drilled a fast ball down the middle towards left field and over everyone's heads for a two-run homer, giving the Canes an 8-2 lead. Good pitching by Gage Morris in the top of the seventh ended the game, as Cartersville got a huge early victory over one of the best teams in the entire country.
Unfortunately, Cartersville couldn't make it 2-0 on the night as they fell to 7A powerhouse Etowah 5-4 in the rain. Preston Welchel shined in the loss, going 3-for-3 with two triples and a single. For the first time since 2014, the Canes earned the number one ranking in Class 4A. As the season continues, this team has a chance to be the best team to ever come through Cartersville.