Canes Annihilate Villa Rica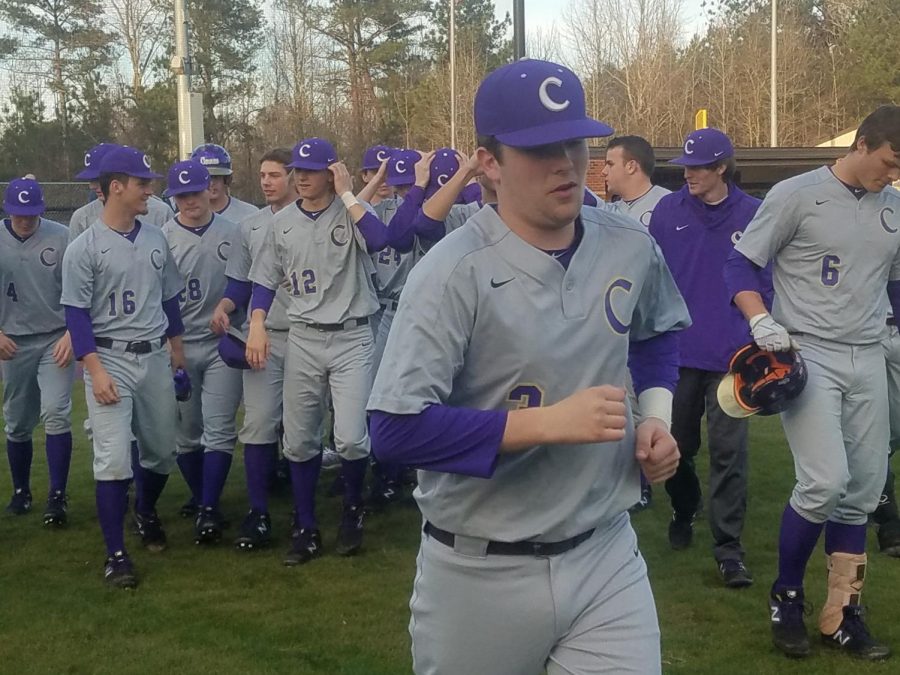 On Monday, February 25, the Cartersville baseball team traveled to Villa Rica and won by a whopping score of 12-0. The Canes only had to play five innings due to the mercy rule that states that the game is called if a team is down ten or more runs after five innings.
Cartersville started the game at the plate and got on base quickly as shortstop Jordan Wilkie and designated hitter Mason Barnett hit back-to-back singles. A double by center fielder Preston Welchel scored both runners and the Canes took an early 2-0 lead.
Senior Kolby Adams started the night on the mound for the Canes and threw two strikeouts in the first inning.
Cartersville continued where they left off at the plate with left fielder Ian Inaba and pitcher Kolby Adams singling consecutively. Errors by Villa Rica scored both runners and the Canes took a 4-0 lead after two innings.
With one out and a runner at first, third baseman Brant Smith caught a ground ball and threw to Josh Davis at second to get the runner out, then Davis threw to JP Martin at first for a beautiful double play.
The Canes poured on the runs in the third inning. With bases loaded, catcher Cohen Wilbanks got hit by a pitch that scored Brant Smith who had singled in his last at bat. With bases still loaded, junior second baseman Josh Davis hit an opposite field moonshot to right field for a grand slam, increasing the lead to 9-0. After Kolby Adams threw his third strikeout, another double play ended the inning. With runners on first and second, Brant Smith caught a ground ball, tagged third, then threw a laser to JP Martin at first for the out.
Even with the starters in the dugout, the Canes scored three more runs until the game was called after the fifth inning. JP Martin pitched in the fourth inning and threw three strikeouts and Jackson Norris, Alan Thacker, and Noah Davis all got their first varsity hits.
The Canes move to 3-1 on the young season and travel to Sprayberry on Wednesday, February 27.