Two CHS Robotics Teams Advance to State Competition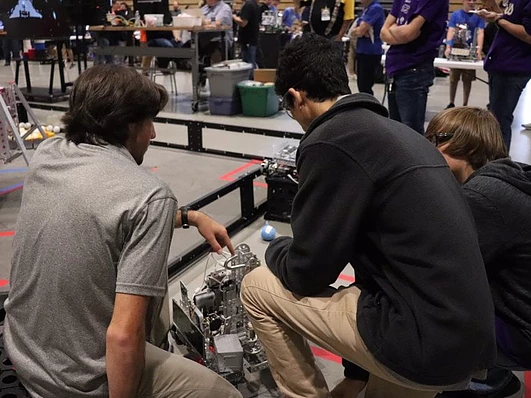 Hang on for a minute...we're trying to find some more stories you might like.
On Saturday, January 26, the North Georgia League robotics competition was held at Mount Paran Christian School in Kennesaw. All four of the CHS robotics teams (Vindicem, Fortissimus, Bellatorum, Inventum) attended along with 26 other teams in North Georgia's Etowah League.
This competition gave teams the opportunity to advance to the state competition in Athens and started with a total of 45 qualifier matches in the regular 2v2 format (two teams on each alliance). Each individual team played in six of the qualifier matches where each team's bot could perform a variety of objectives for points. Each match lasts about two minutes, and includes an autonomous phase where the robot runs off of preprogrammed instructions and a driver-controlled phase where someone from the team controls the robot directly. Teams also participated in a series of interviews where they talked about the design process behind their robot and presented an "engineering notebook" that recorded the team's activities that year.
After all of the qualifier matches are complete, the top four teams become "alliance captains" and select two other teams to compete with them against the other alliance captains in the semi-finals and finals. In order to advance to state, a team must have been on the alliance that won the finals, the alliance captain of the runner-up alliance, or have been awarded one of several awards determined by their performance in the interviews.
At the competition, Bellatorum finished as the fourth alliance captain and Vindicem was selected as part of the second alliance. In the semi-final matches, Bellatorum's alliance went up against the first ranked alliance and Vindicem's alliance went up against the third-ranked alliance. Both teams won their matches and advanced to play each other in the finals. Vindicem and their alliance ultimately prevailed over Bellatorum's alliance in the final match, however, because Vindicem was on the 1st place alliance and Bellatorum was the captain of the 2nd place alliance, both were able to qualify for state.