My Favorite Teacher…
Chipper reporters reveal the best teachers in their school careers thus far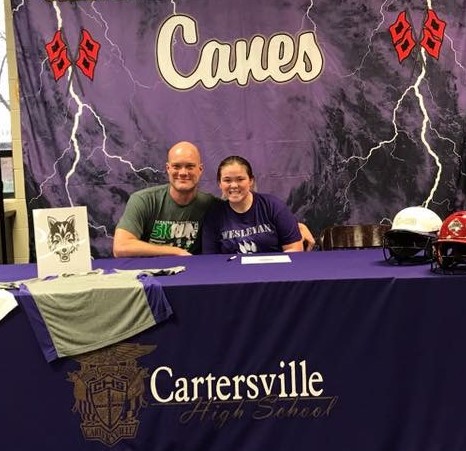 Hang on for a minute...we're trying to find some more stories you might like.
Teachers are incredibly important adults in the lives of young people. Oftentimes, though, teachers do not receive much credit. This week, Chipper reporters give shout-outs to the most influential teachers in their educational careers. Take a look at the teachers who have made the biggest impact on these young writers and why…
Will Archer: I had my favorite teacher when I went to another school in second grade. Her name was Mrs. Cabrera. She was a loud veteran with ADHD, and she was the best. When I was younger I had a lot of trouble focusing and staying still, not unlike a lot of children. But it was a pretty serious problem for me. I tapped my pencil on the metal desk legs constantly, which drove everyone crazy with its tink tink tink sound. Instead of yelling at me to stop or anything like that, she put a cushioned strip around the leg of my desk so it wouldn't make any sound. She was the first teacher to even attempt at accommodating me instead of trying to stamp that behavior out. That's why she's my favorite.
Presly Edwards: I didn't meet my favorite teacher until last year, but Mr. Bullock is one of a kind. One of my favorite things about Mr. Bullock is that he tries to build a connection with each of his students. He came to my senior night and my signing, and he always encourages me to be the best version of myself. He will always be there if you need him and he knows how to liven up an English classroom. I am glad I had him as a teacher, and I want to thank him for supporting me.
Katie  Cox: The teacher who has inspired me the most is Ms. Beth Cauthen. From age six, I had wanted to become a veterinarian. In 8th grade, however, I briefly considered becoming a teacher, before dismissing the idea. Sophomore year came, and my geometry teacher sparked the flame to revisit the idea of education as a career path.  She seemed to enjoy her job and really connect with me on a personal level. She showed she cared for her students and related to them as well. She seemed to really understand how much stress is put onto high schoolers. Ms. Cauthen is always one to stop you in the hall and ask how life is going and to help when you have a question, big or small. I cannot wait to inspire and connect with kids the way she has inspired me.  
Mack Morris: In all my years of school, I've never met a teacher I appreciated more than Ms. Laura Huth. She teaches 8th grade Georgia History at Cartersville Middle School and she made her class something I looked forward to every day. Her dedication to her students and her subject showed in every assignment or lecture she gave. She truly cared about what she was doing and who she was doing it for. She always challenged me in class and attempted to expand my learning outside of the classroom. For example, at the end of the year, she gave me one of her personal books to read over the summer. No teacher had ever given me a gift like this, and it really stood out to me. She made what I expected to be a mediocre year of middle school one of the best years I've had in a classroom, and that's why she's my favorite teacher.
Ryan McCrary: My favorite teacher I've ever had is Mrs. Milam. She was my second grade teacher, and I loved her class. She was super kind and her class was really fun. Mrs. Milam made class enjoyable and everyone wanted to be there. One weekend I had a piano recital and she showed up. I didn't even know she was going to show up, but she did. I loved second grade, and it was all because of Mrs. Milam.  
Dhvani Patel: Growing up, you encounter so many teachers guiding you through the education process, but there is usually one teacher who will stick in your mind forever! I had such a teacher, Ms. Veiga, my Graphic Design teacher, in my freshman, sophomore, and junior years. She made me believe in myself when I felt that I was at my lowest. I still remember the first day of my freshman year. Mrs. Veiga gave me confidence in more ways than one. She also offered something that many others didn't during school, which was support and unfailing friendship! Most of all, everyone could tell she genuinely loves what she does. 
Lyle Forristall: My favorite teacher was my elementary school art teacher. His name is Mr. Laney, and he worked at White Elementary School for most of his teaching career before he retired not too long ago. When you walked into the class a lot of the times he would be making a pot on his pottery wheel. He would always talk to us with a smile on his face and would always encourage us when we messed up. We watched a lot of 3-D drawing videos and that was just weird, but memorable. Overall it was a fun class because of him. Seeing him would always put a smile on my face. 
Stanisha Watkins: I had my all-time favorite teacher when I was in 6th grade. She taught math. That was my first year in middle school and the first year I got a C. The reason she was my favorite is because she helped me over and over to succeed. She never gave up on me and for that I am so grateful. I was really struggling in math. I wanted to give up, but she didn't let me. By the end of the year my grade was up to an A. You don't usually find a lot of people in the world who don't give up on you no matter what, but she was one of those people. And for that I am truly grateful for Mrs. Edwards. 
Logan Cagle: Mrs. Wood, my second grade teacher, is easily one of my favorite teachers.  I remember enjoying learning because she made it fun. On Fridays we would have silent reading time, and during this time she would allow her pet bunny, Button, to roam around the class.  This made reading exciting and something to look forward to every week. Without Mrs. Wood's fun approach to reading, I would not like reading nearly as much as I do now!
Itzury Gomez: My favorite teacher is Mrs. Chesley, from my elementary years. She was a little, old lady who taught ESOL, which I had to attend because I struggled with English. Since it was so long ago, I am afraid that I do not recall much about that time. What I do remember is the warm feeling that she would always bring. She was like the grandma I never had. She would put up with me as a young child whenever I would act up and cause trouble. Even though I was a bit of a difficult child, she was always kind and didn't get mad at me. She was patient with me when I wouldn't understand a lot of things while reading and after I did learn I was grateful. I was opened to a whole new world that I never knew existed, and I fell in love with reading. This is all thanks to Mrs. Chesley. 
Zoe Terry: My most influential teacher, would be my 4th grade teacher, Mrs. Cook.  She helped me hone in on my schoolwork. I was having troubles reading at my grade level, because of my ADHD. I was in fourth grade reading at a 3rd or 2nd grade level. All my other teachers didn't notice that I was struggling. But she did. She suggested that I get tested. If it wasn't for Mrs. Cook, I wouldn't be where I am now.  
Lauren Bruce: Sheila Langford was my math teacher all through middle school, as well as my Bible teacher in eighth grade at Excel. Her job is her passion and she is fervent about pouring into kids. With such a small school, everyone was a lot closer relationally, especially since you had the same teachers for many years in a row. She often said she thought of us like her children, and influencing us as an adult was just as important to her as teaching us, which she also strove to make interesting and beneficial. She was always coming up with new ideas and games to help us learn, and she never moved on in a lesson without making sure everyone understood the material.  
Thomas Smith: My favorite teacher of all time was Mr. Scott Busby. Mr. Busby was my 5th grade math teacher who had a special policy that was unheard of in elementary school: he gave no homework. The combination of his encouraging, funny spirit and his no homework policy inspired me to learn. Math became my favorite class that year, and I credit Mr. Busby for all of it.
Trinity Turner: We all come across a person in our lifetime who helps shapes us into the person we are today. I found mine in 6th grade when I  met Mrs. Montgomery. From day one she let me know that I was cared for and that she wanted me to succeed in life. Despite everything that was going on in my life she never made me feel less than any other student. She made me feel equal, like I was her own. She helped me overcome a lot of obstacles and let me know that I could do anything I set my mind to. When I got my scholarship, she was there by my side to let me know how proud she was of me. Honestly if it wasn't for her, I don't think I would have come this far. She is greatly appreciated and is so wonderfully made. She's gentle, kind, and patient and even years after, we kept in contact.  
Luke Simpson: My favorite teacher from all my years of schooling is Mrs. Kelcey. Mrs. Kelcey was my 7th and 8th grade ELA and social studies teacher. She always thought of creative ways to teach and review content, which gave the class an overall good atmosphere. In her spare time, she ran the academic and quiz bowl teams. She made class easier to understand with acronyms for both classes.  I'll never forget Mrs. Kelcey.
Kat Tinsley: I've moved from a lot places, and I've had a lot of teachers in between. A particular teacher that stands out from the rest is my second grade teacher, Mr. Irving, from when I moved to Charlotte, North Carolina.  Mr. Irving was bald, and one day a kid asked why his head was so shiny. I remember it all so vividly… we were sitting on the ground on the colorful foam mat in front of the classroom and he smiled and wiped his head as if he were trying to do a sashe with his non-existent hair. Then, he pulled a stick of chapstick from his pocket and looked over the beaming eyes of second graders. "Do you guys know what this is?" he asked keeping his amused smile. Then of course, the class yelled their answer as most children do, from the suspense, but not me. I looked dead up at this man with my arms crossed in confusion.  "Yes that's right," he said. "I take this chapstick every morning and smear it all over my head." He slathered his hand over his forehead, demonstrating what this routine would look like. "Chapstick has SPF 15 in it and protects my head from the sun." The class erupted into laughter and would return the next day with greasy foreheads. It's the small, funny moments like these that made Mr. Irving my favorite teacher.
Addison Watkins: Out of all the teachers I've had, Mrs. Hensley would have to be my favorite. Not only is she inspiring, motivating, and helpful in the classroom, she strives to make a difference in all her students lives out of school. She has such admirable qualities that show in everything she does and is always pushing you to do your best and be successful in everything you do. Expecting nothing less than the best of your abilities is what makes Mrs. Hensley such a great teacher.
Shamyah Williams: The most inspirational teacher I've had by far would be Mrs. Bullock. As a teacher, it is your job to provide a safe and welcoming environment for your students and to provide the information they need. But Mrs. Bullock did more than that, though; she pushed us to be our greatest possible selves. She always encouraged us to embrace our creativity and never settle for less. That push and integrity she demanded made us better students and people. 
Sam Abbott: My favorite teacher is Mrs. Phillips. She was the music teacher at White Elementary School. She would teach your normal music class, but she also taught recorder karate. We were taught how to play the recorder and we would learn songs. After we learned a certain song, we would earn a belt. Every time you got a new belt, the next song would get harder.  I loved the challenge.
Emily Butterworth: My favorite teacher would have to be my 2nd grade teacher, Mrs. James. She was incredibly nice and interesting, but what really stood out about her was her classroom. She had class pets basically lining her room. She had a rabbit, a guinea pig, toads, rats, a scorpion, and a tarantula. By the end of the year, she even let me take care of her rabbit for a weekend as a lesson in responsibility. Her class made school way more interesting and fun for us.