Can He Do Both?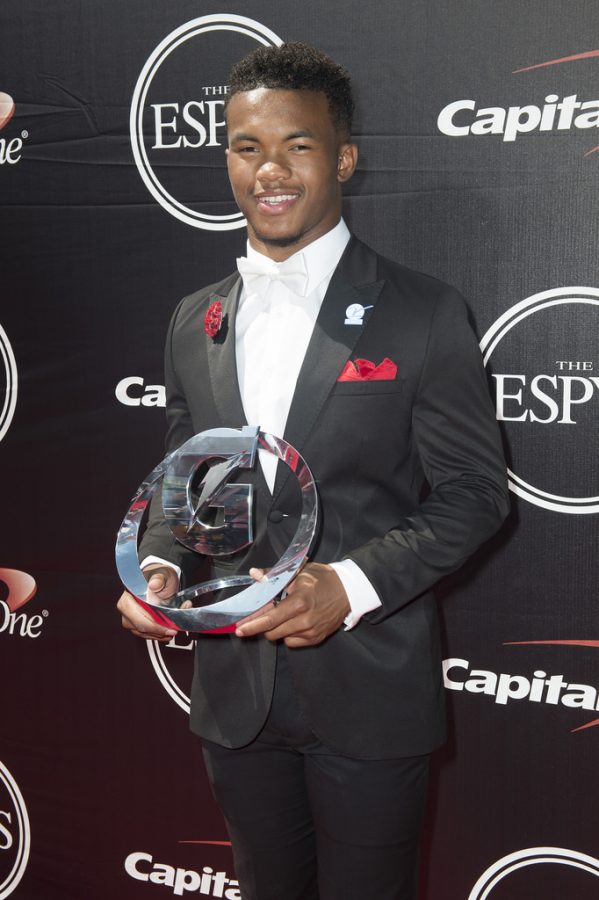 Heisman winning Oklahoma quarterback Kyler Murray has a problem on his hands. He's talented. Murray is a dual-sport athlete who excels at baseball and football. He was taken ninth overall by the Oakland A's in last year's MLB draft, but decided he would return to Oklahoma for his senior season to play football. The rest, of course, is history as Murray finished up a record setting season at OU with the Heisman trophy in his hands and the Sooners in the playoffs. It seemed clear, at first, that Murray would wrap up his final season with the Sooners and his football career would be over, as he would focus on professional baseball. But with the season he had, it seems that Murray could easily declare for the NFL draft and be selected in the first round.
So can he do both? Bo Jackson did it. Deion Sanders did it. The major difference between Murray and these football-baseball athletes is that Murray plays the most important position on the field. Murray is a quarterback, the leader of the offense, the franchise player for a team. He has to be at every team meeting, every practice, and has to study his butt off to learn a new offense. That doesn't leave much time for the A's. And if he decides he wants to attempt both, that very well might scare some NFL franchises away. No team wants to select a franchise player who might not have time for their team. So which decision would be best for Murray? Let's find out.
If Murray decides to forget baseball and declare for the NFL draft, then he might be considered the number one QB in this class. He would likely be taken in the top ten, with four teams seeming to need a quarterback. The Tampa Bay Buccaneers (5th overall pick) drafted QB Jameis Winston number one overall in 2015. The former Florida State quarterback has posted a 21-33 record with the Bucs along with multiple immaturity issues. He was suspended for four games this season due to an incident in which he groped an Uber driver. It seems that it might be time to move on from him. If Murray is drafted by the Bucs, he will be in command of a very talented offense starring all-pro receiver Mike Evans and a cast of other talented young receivers and tight ends. He will also have the pleasure of working with new head coach Bruce Arians. Arians, the former Arizona Cardinals head coach, is considered by many as a quarterback whisperer, so it would be interesting to see what he could do with Murray.
The New York Giants (6th overall pick) are also in need of a quarterback. Over the past two seasons the 38 year old Eli Manning has posted an 8-23 record as the Giants starter, with a myriad of electric players around him. Murray's mobility could help him with the Giants due to their pathetic excuse for an offensive line. Murray would have arguably the most talented receiver in the NFL in Odell Beckham Jr., one of the fastest and most electric tight ends in Evan Engram, and a stud young receiver in Sterling Shepard. Oh, and how can I forget Saquon Barkley. The phenom rookie running back took the league by storm, rushing for 1,307 yards and 11 touchdowns. More importantly for Murray, Barkley caught 91 passes for 721 yards and an additional 4 TD's, proving his worth as a receiver out of the backfield. Giants head coach Pat Shurmur would love to get his hands on Murray.
Two other possibilities for Murray would be the Jacksonville Jaguars (7th overall pick) and the Denver Broncos (10th overall pick). Both teams have a mediocre quarterback in place to wait for a better QB class, but if Murray fell this far it might be a bargain. The Jaguars boast a stout defense, but lack many offensive weapons. They have a very good offensive line and a big powerful running back in Leonard Fournette, but lack any star receivers. The Broncos are in the same situation with a powerful defense and a good running back, but no star receivers.
Of course, if Murray slid any farther, two teams with aging quarterbacks could take him. Future Hall of Fame QB Tom Brady will turn 42 when the season starts and the Patriots would love to have a player to plug in after Brady retires. Philip Rivers of the LA Chargers is 38 and the Chargers would benefit from having Murray to sit behind him for a few years and then take over an extremely talented Chargers team.
There are a few downsides to Murray choosing football over baseball. Murray is listed at 5'10" which is probably generous. He might struggle with passes being deflected at the line and have problems seeing over the O-line due to his height. The prototypical NFL QB is 6'4", but that is changing. Last season the Cleveland Browns selected quarterback Baker Mayfield with the first overall pick. Mayfield stands at only 6 feet, but has shattered expectations by throwing for the most touchdowns by a rookie in history and is the favorite to win offensive rookie of the year.
If Murray's height isn't a problem to teams, then he should think about salary. The average base salary of an NFL rookie is approximately $2.4 million. Murray has already signed a $4.66 million contract with the A's. That's a good bit more than what he might make in the NFL, even if he is the number one overall pick. He has a chance to make much more money playing baseball, not to mention that it's much safer to play than football.
At the end of the day, Murray's choice will be all about which sport he's more passionate about. Either choice will be a great one for the respective sports, due to his immense talent at both. I would personally be more interested in seeing Murray give the NFL a chance, but I think it's in his best interests to play baseball. It's a big decision, but no one can argue this: he's going to be a beast at either.