Dual Enrollment Ins and Outs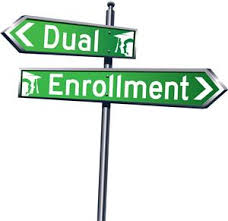 Hang on for a minute...we're trying to find some more stories you might like.
Dual Enrollment is a program that provides funding for sophomores, juniors, and seniors at eligible high schools to take approved college-level coursework for credit towards both high school and college graduation requirements.
The SAT scores needed to dual enroll is 440 or higher on both the English and Math portions. Some colleges have a GPA requirement, which is normally 3.0, but other colleges, like Chattahoochee Tech, do not.
Most colleges have a dual enrollment program, but, the counselors at CHS suggest that students enroll at a campus near them.
Dual Enrollment can help both you and your parents. Because students receive college credit while still in high school, they don't attend college as long. It's a plus for parents because they don't have to pay for as many college classes. Dual enrollment is cost-free.
Because Dual Enrollment is cost-free, students can save money and time on the classes they take, gaining transferable college credit for free while still counting as high school courses that count toward graduation. When the students enroll in college after high school, they'll be able to complete it cheaper and earlier.
If you dual enroll at a college you can take both basic college classes and specialized college classes. The specialized college classes depend on the college you go to.