Christmas in the Performing Arts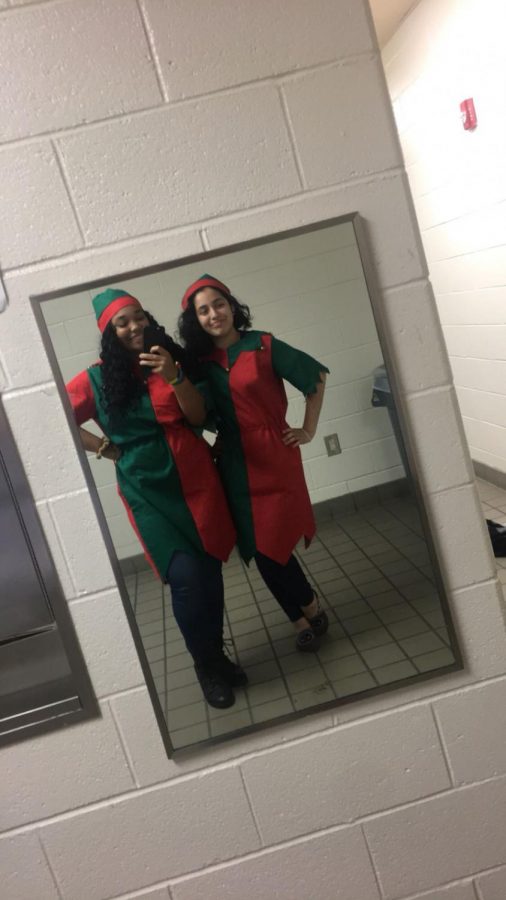 On December 8th, 2018, the CHS theater department performed its second show of the year, Elf Jr. The musical is based off the beloved 2003 movie Elf, starring Will Ferrell. In our CHS show, Buddy was portrayed by Ethan Boone (Senior) and his girlfriend, Jovie, was played by Yasmine Balderas (Junior). The entire show was produced by students, who had been working hard since the beginning of the semester.  
In the movie and the musical, Buddy grows up in the North Pole, believing he is one of Santa's elves. After discovering he is just a normal human, he sets off to find his birth father in New York City. When his father does not believe Buddy is his real son, a DNA test is performed. Upon confirmation, Walter lets Buddy stay with him, his wife, and son. When Buddy lands an accidental job at Gimbels, he meets Jovie, who becomes his girlfriend. On Christmas Eve, Santa's magical sleigh can't fly because there is no Christmas spirit. After remembering something Buddy told her, Jovie starts to sing carols in the middle of a crowd on a live news station. When others join in, the singing lifts the seasonal spirit which fixes the sleigh, saving Christmas.  
"I'm really proud of the kids coming together and working so hard during this time. I [was] really excited to see how this [came] together" explained Mrs. Long
On Monday, December 17th, the CHS chorus classes will put on the second concert of the 2018-19 year. This concert will cost $3 and will be Stanley's 26th school Christmas concert. The show will also include the Cartersville Elementary Orchestra. "The holiday concert is always a good way to celebrate the season by hearing many favorite carols and holiday tunes" says Mr. Stanley on why attending is important.  
Each high school choir will sing five pieces along with three songs from the Orchestra. Some songs from the 99 students include Silent Night, Jingle Bells, O Come All Ye Faithful, Carol of the Bells, and Deck the Halls. For the big finale, all choirs will take the stage to wow the audience.  
Out of all concerts, the Christmas show is always the most well-attended, so be sure to get there early to enjoy it up-close! Whether participating or attending, these seasonal shows are a great way to be a part of something in Cartersville. Make the performing arts department at CHS part of each Christmas season. You won't regret it.