Cartersville Christmas Parade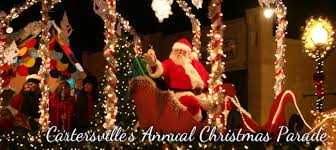 Presley Edwards
December 17, 2018
The Cartersville Christmas Parade has been an annual tradition in the city for years. The small town gets together on a Thursday night in December and celebrates the Christmas season with floats, hot chocolate, and the grand finale, Santa Claus. Local schools come together to perform Christmas songs and community businesses make dazzling floats.
This year, the Cartersville Exchange Club partnered with Shottenkirk Honda to put on the parade. The Cartersville Exchange Club was founded in 1985 and works to make the community a better place. The organization believes strongly in giving back to the community's youth. They provide things like yearly scholarships with help from the Etowah Education Foundation, and also advocate for the Boys and Girls Club.
The costs to have a float in the parade are as follows: $75 for non-commercial floats, $150 for commercial floats, $125 for non-commercial vehicles, and $200 for commercial vehicles. All entry fees go towards yearly donations to the Etowah Education Foundation, Boys and Girls Club and Bartow Christmas Coalition. The Exchange Club also collects donations from the crowd to raise additional money for these charities.
In addition to the floats and vehicles, the city and county fire and police departments, area high school bands (Cartersville, Woodland, Cass, Adairsville), and saddle clubs usually have entries in the parade. The world-famous Budweiser Clydesdales also make regular appearances.
The parade route begins at the parking lot of Tabernacle Baptist Church,  turns right over the bridge to Bartow Street, takes multiple lefts to create a giant square of approximately two miles, and winds up back in the parking lot of Tabernacle Baptist Church. The parade is held on the first Thursday in December, so make sure you are at the next one!