Way-Too-Early NFL Mock Draft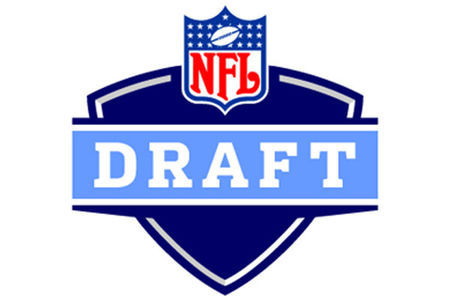 Now that the NFL is back in full swing, the sports editors at the Chipper have decided to do a way-too-early 2019 NFL first round mock draft. We will have analysis on our projected top fifteen picks. Order is based off of NFL standings after week six of the season.
1.) New York Giants- Justin Herbert, Quarterback, Oregon, PAC-12
The Giants take a QB here after their aging franchise quarterback, Eli Manning, has turned in back-to-back terrible seasons. Herbert is an excellent choice. At 6'6" 233 pounds, he has the best measurements out of any QB in this draft. He is easily the best quarterback in the class and has proven it by leading the Ducks to a 5-1 record, scoring 18 total touchdowns in only six games.
2.) Indianapolis Colts- Nick Bosa, Defensive End, Ohio State, Big 10
The Colts defense has been subpar over the past few years, forcing the offense to put up 40 just to win a game. Throw in the best pass rusher in this class and the offense will be relieved. Bosa has racked up 17.5 sacks in his career at Ohio State. His decision to leave Ohio State due to injury shouldn't affect his draft stock.
3.) San Francisco 49ers- Greedy Williams, Cornerback, LSU, SEC
Standing at 6'3" and weighing 185 pounds, the All-American cornerback will have no problem fitting in beside current 49ers and former Legion of Boom member, Richard Sherman. Williams is a long, athletic ballhawk who is not afraid to get physical with receivers. He had six interceptions last year and already has two this year.
4.) Arizona Cardinals- Ed Oliver, Defensive Tackle, Houston, American
Pray for all the offensive linemen in the NFC West! The 6'3" 290 pound defensive tackle is a freak athlete for his size. He is an Aaron Donald-type player, but bigger. Oliver is extremely versatile and virtually unblockable. He had 73 tackles and 5.5 sacks last year in 12 games.
5.) Oakland Raiders- Deandre Baker, Cornerback, Georgia, SEC
The senior cornerback is a physical player who likes to get in the face of opposing receivers. The 5'11" 185 pound Baker has six interceptions in his career at Georgia and is a rare talent Jon Gruden and the Raiders can't afford to pass up.
6.) Atlanta Falcons- Clelin Ferrell, Defensive End, Clemson, ACC
After ranking in the bottom half of the league in sacks over the last two years and not having a prominent pass rusher except for one-hit wonder Vic Beasley Jr. (Adairsville High School Class of 2010), the Falcons turn to defensive end Clelin Ferrell. The Clemson standout has all the physical attributes and skills to play at a high level for a very long time. Deciding to forgo the draft last year and stay for his senior season has payed off for Ferrell. He has proven himself to be one of the most dominant pass rushers in college football. The senior has racked up six sacks in six games this season and is showing no signs of slowing down.
7.) Denver Broncos- Will Grier, Quarterback, West Virginia, Big 12
After having a shaky quarterback situation since Peyton Manning retired, the Broncos have finally found their next franchise QB. Will Grier is as experienced as they come, having played 4 season of college football. After transferring from Florida, where he spent two seasons with the Gators, Grier has blossomed into a professional quarterback while at West Virginia. He is exactly the quarterback the Broncos need if they want to win now. Grier has thrown 66 touchdowns in his collegiate career.
8.) Buffalo Bills- Jonah Williams, Offensive Tackle, Alabama, SEC
Williams is the most complete offensive lineman in this draft, and the Bills need him more than anyone. Buffalo has been in the top ten in sacks given up for the past three years. They've only made the playoffs once since 1999. A team can't make the playoffs if their quarterback is on his back every snap. The Alabama product is a very safe choice for Buffalo.
9.) Tampa Bay Buccaneers- Deionte Thompson, Safety, Alabama, SEC
The next in line on a long list of Alabama first-rounders is heading to Tampa Bay. Thompson is a one year starter for the Crimson Tide and is already considered by many as the best safety in this draft. The athletic junior is 6'2" 196 pounds and has made 39 tackles and 2 interceptions in 7 games for the tide.
10.) Detroit Lions- Rashan Gary, Defensive Tackle, Michigan, Big 10
The former number one overall player in the class of 2016 has had an impressive career for the Wolverines. He is an extremely versatile defensive lineman, who is explosive off the line of scrimmage and has good size. He has earned 100 tackles and 9 sacks in his Michigan tenure. 
11.) Cleveland Browns- AJ Brown, Wide Receiver, Ole Miss, SEC
The receiver-needy Browns now have a quarterback who can win in former number one overall pick, Baker Mayfield. Now they just need to give him a few more weapons. There is none better than AJ Brown. Brown is a great route-runner with good size. While he has played mostly in the slot at Ole Miss, Cleveland will have to move him outside since number one wideout Jarvis Landry is in the slot.
12.) Houston Texans- Greg Little, Offensive Tackle, Ole Miss, SEC
The Texans have one of the worst offensive lines in the NFL. Houston currently sits at second in the league in sacks allowed. Greg Little is a great pick here, as he will provide protection for their young quarterback, Deshaun Watson.
13.) Dallas Cowboys- N'Keal Harry, Wide Receiver, Arizona State, PAC-12
The 6'4" 213 pound receiver will be a great addition to a Cowboys team who hasn't had a true number one receiver since Dez Bryant. Harry has averaged 74 receiving yards per game during his three years at Arizona State and has 22 total touchdowns.
14.) Jacksonville Jaguars- Drew Lock, Quarterback, Missouri, SEC
Drew Lock brings a lot to the table for a team plagued by years of inconsistent quarterback play. Lock stands at 6'4" and has a strong arm. He broke out last season for the Tigers when he threw for 521 yards, 7 touchdowns, and only 1 interception against Mississippi State in the first game of the season. He has 10,324 career passing yards and 83 career passing touchdowns.
15.) Philadelphia Eagles- Devin White, Linebacker, LSU, SEC
The Philadelphia defense has talent, but needs a few more pieces to become elite. Devin White is the best linebacker in the country, and he's proven that over the last few seasons with his natural ability to fill gaps and stay on the ball. He has 229 tackles, 6.5 sacks, 2 forced fumbles, and 1 interception so far in his career at LSU. He will be a good pick- up for the Eagles and will most likely line up at weakside linebacker next to Jordan Hicks.
16.) Seattle Seahawks- Noah Fant, Tight End, Iowa, Big 10
17.) New York Jets- Tyler Biadasz, Center/Guard, Wisconsin, Big 10
18.) Minnesota Vikings- Dalton Risner, Offensive Tackle, Kansas State, Big 12
19.) Pittsburgh Steelers- Dexter Lawrence, Defensive Tackle, Clemson, ACC
20.) Miami Dolphins- Ryan Finley, Quarterback, NC State, ACC
21.) Tennessee Titans- Jaquan Johnson, Safety, Miami (FL), ACC
22.) Green Bay Packers- Taylor Rapp, Safety, Washington, PAC-12
23.) Oakland Raiders (from Chicago Bears)- Deebo Samuel, Wide Receiver, South Carolina, SEC
24.) Cincinnati Bengals- Devin Bush, Linebacker, Michigan, Big 10
25.) Washington Redskins- Michael Jackson, Cornerback, Miami (FL), ACC
26.) Carolina Panthers- Te'von Coney, Linebacker, Notre Dame, Independent
27.) Los Angeles Chargers- McKenzie Milton, Quarterback, UCF, American
28.) Baltimore Ravens- Bryce Love, Running Back, Stanford, PAC-12
29.) New England Patriots- Montez Sweat, Defensive End, Mississippi State, SEC
30.) Green Bay Packers (from New Orleans Saints)- Beau Benzschawel, Guard, Wisconsin, Big 10
31.) Kansas City Chiefs- Dre'Mont Jones, Defensive Tackle, Ohio State, Big 10
32.) Los Angeles Rams- Austin Bryant, Defensive End, Clemson, ACC