New Superintendent: Dr. Feuerbach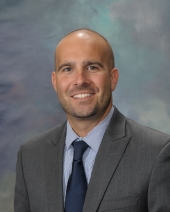 Dr. Marc Feuerbach, after working as the principal of CHS for four years, has risen in the chain of command to be the superintendent of the Cartersville School System.
He describes his experience as principal as great, noting that while some days were more challenging than others, that isn't necessarily a bad thing. While he was previously looking through a narrow scope at things like growth—both in population and in improvement—and policy implementation, now his scope is much wider. He stressed a "global perspective," saying that now he cannot function in that narrow mindset, as now he is responsible for the high, middle, and elementary schools. He must focus on the system as a whole.
Dr. Feuerbach also finds it important to be interactive with all the schools, making a point to be "going into the buildings, walking the halls, seeing what's going on in our classrooms" and looking at the facilities. He intends to be a physical presence in the system.
For school programs, as a superintendent and a father, he plans to be involved in all the schools' programs, from the high school's football games to the middle school's Spanish Night. Short term, the superintendent aims to understand the current strengths and challenges of the system. He is observing, keeping policies and processes the same before he makes any changes. "Who am I to say it doesn't work?" Accentuating the cycle of progress—recognizing challenges, making changes, and reevaluating—Dr. Feuerbach intends to keep this cycle going to make our school system as exceptional as possible.
One of the challenges that he recognizes currently, especially for the high school, is population growth. The lower grades are at higher numbers, but, unlike the high school, their growth has tapered off and is no longer ongoing. He views the situation as needing an arrangement that will last when our growth subsides but can also support the numerous students with things like buildings, personnel, and offered classes.
With many new students, all three schools have taken on new staff. To handle this, a new teacher orientation was held during pre-planning to address everything from job benefits to teaching and learning expectations. New teachers have been assigned a mentor teacher, and Dr. Feuerbach himself had the opportunity to welcome and tell them about his personal beliefs and opinions. Amidst the many changes, he notes that one constant is his attention to detail.
The necessary precision of the job is not diminished with more responsibilities but is instead an expanded version of what he has previously dealt with, considering the number of details connected to the elementary and middle school in conjunction with the high school.
Finally, when asked what he would say if he had another chance to get on the auditorium stage and give one more lengthy, infamous speech, he would stress the importance of hard work and being respectful. The latter, he says, encompasses not only manners, but also listening to others, not gossiping, and being kind. "Life may not be easy, but you're going to be able to navigate those waters."