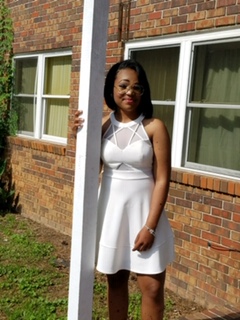 Taylor is a
sixteen-year-old junior at Cartersville High School.
She was
 born with a rare
birth defect
 called a 
Large 
Congential
Melanocyctic
Nevus. She
recently underwent
surgery
to reconstruct her
ear with rib cartilage and a skin graft. She has had over thirty surgeries in her lifetime.
Taylor is a shooting guard for the high school
basketball team and plays travel ball out of Rome, Georgia.
Because of her history, Taylor wants to be either a Surgical Technician or a Surgical
Assistant.
Taylor Benham, Writer
Apr 14, 2020
Feb 28, 2020

Coronovirus Concerns

(Story)

Feb 10, 2020

Before Integration: Summer Hill School and Community

(Story)

Nov 21, 2019
Nov 04, 2019

October: Month-Long Awareness for a Life-Altering Disease

(Story)

Sep 30, 2019

Is an HBCU right for you?

(Story)

Sep 09, 2019