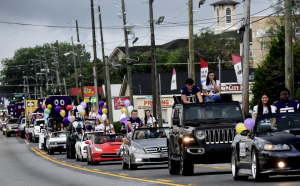 In September Cartersville high school hosts an annual homecoming dance. Homecoming is a tradition that high schools, colleges, and sometimes churches use to welcome back older students or members. The ceremony takes place at the schools' home football field includes a band performance, a small parade of floats made by the student body and the crowning of homecoming king and queen. This year homecoming may be a little different if the school even plans on having it.
Covid-19 has taken a toll on several after school activities and events. Limiting amount of people at sporting events while also enforcing social distancing and even postponing when sports were able to meet during summer workouts, this also fed into the regular season. Covid-19 took control, canceling the previous year's prom right at the beginning of the pandemic outbreak.  At Cartersville high the dance is normally held in the storm center where an abundance of the students that go to the school along with dates who sometimes go to other schools spend their night. If you have ever been to a school function such as homecoming or prom you would know that social distancing is not an option when everyone wants to dance with their friends in big groups. Seeing as COVID-19 has basically taken over normality in any public function having a dance would probably be the last thing that would be good for a school. If the school does host a homecoming it should be a very definite answer that they will have it before students spend money on attire and tickets much like prom last year.
For a homecoming dance to work out several restrictions would have to be put into place in order to ensure the protection of all the staff and students. Administration would probably be advised to put a limit on how many tickets would be sold and who would be able to receive them. Students most likely would be wearing masks the entire time while social distancing is being enforced for extra safety. During a regular COVID free homecoming event there would be platters of food and drink for everyone to eat from throughout the night along with drink coolers. This year if homecoming were to take place, we would not be able to have any of the luxuries because of the number of germs and hands that would be contaminating the food.
The safety of the students and staff is obviously the number one priority when planning a large event like this. While other schools might take the risks, I do not see CHS taking any chance at what everyone could be exposed to throughout the night. No further information has been said about when or how homecoming will take place but talk around school from some staff and students is there will be just a homecoming game and no dance to follow.