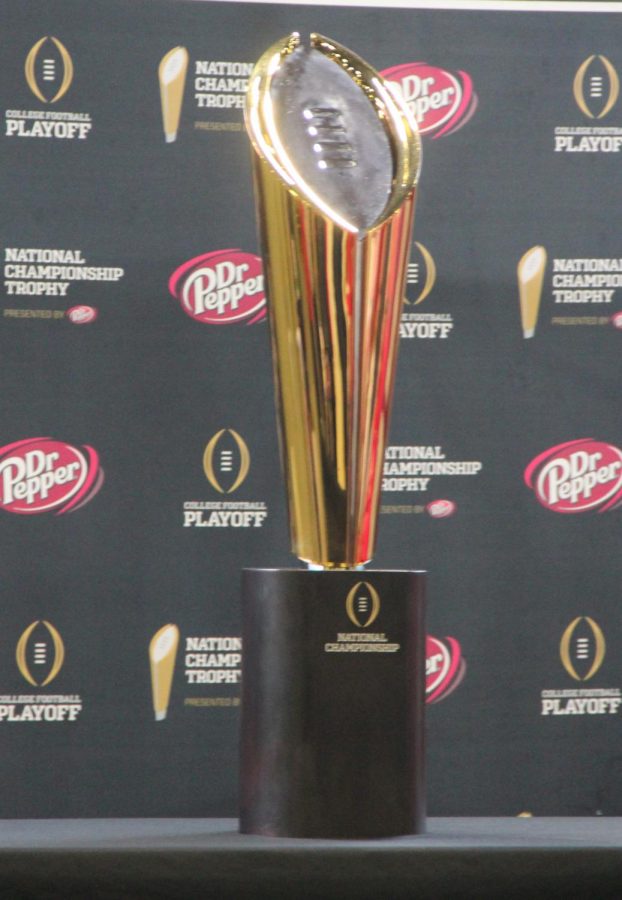 Duke Blue Devils
#2 Alabama Crimson Tide
Smith: Alabama
Much like Clemson, Alabama returns a lot of offensive star power. Quarterback Tua Tagovailoa is a Heisman-favorite and has so many weapons at his disposal. Wide receiver Devonta Smith, linebacker Terrell Lewis, and running backs Najee Harris and Brian Robinson are all suspended for the first half of the game and star linebacker Dylan Moses is out for the season with a torn ACL, but that shouldn't slow Alabama down against a mediocre Duke team. Without quarterback Daniel Jones, the Blue Devil offense will not be as stout. Expect Bama to run away with the game.
Alabama 45 Duke 10
McCrary: Alabama
Alabama has so much speed on offense and so much talent on defense this year. It's almost unfair.  With a top 3 QB in Tua Tagovailoa and a stout defense, the Crimson Tide should take care of business on Saturday. Even suspensions to Najee Harris and Terrell Lewis can't keep the Blue Devils from getting destroyed. 
Alabama 42 Duke 9
#3 Georgia Bulldogs
Vanderbilt Commodores
Smith: Georgia
The Bulldogs finished a disappointing 2018 with a loss to Texas in the Sugar Bowl. Expect Georgia to bounce back in 2019 with an undefeated regular season. They return quarterback Jake Fromm and star running back D'Andre Swift. While they lack depth at the wide receiver position, Fromm's arm and Swift's legs will keep their offense hot. Vandy has a very good running back in Ke'Shawn Vaughn. He should get a load of carries against the Dawgs. This game might be closer than most expect, with UGA not quite in midseason form, but the Bulldogs still get the win.
Georgia 31 Vanderbilt 17
McCrary: Georgia
There's a lot of questions about Georgia's receiving core coming into the season. That's the only thing holding Georgia back from decimating every team they face this season. I expect Georgia to still be dominant offensively, because they have one of the best running backs in the country in D'andre Swift. This is a mismatch for Vanderbilt in my opinion, and I expect Georgia to win this game with relative ease.
Georgia 35 Vanderbilt 14
South Carolina Gamecocks
North Carolina Tar Heels
Smith: South Carolina 
South Carolina looked very impressive offensively against Clemson last year. While they lost the game 56-35, they put up 600 yards of total offense. A majority of that offense came from wide receiver Deebo Samuel, who was drafted in the second round of the 2019 NFL Draft, but the Gamecocks still have electric receiver Shi Smith and a capable quarterback in Jake Bentley. North Carolina is going into this game with a bit of uncertainty at the quarterback position. True freshman Sam Howell was named the starter for the opener. It will be very interesting to see how he performs against an SEC team in his first collegiate game. I'll take the Gamecocks on the road.
South Carolina 34 North Carolina 21
McCrary: South Carolina
I really don't know what to expect from North Carolina this season. This is Mack Brown's first season and there's a lot of uncertainty with this team. Last season the Tar Heels went 3-9, and this season they are lead by true freshman Sam Howell. This is a recipe for disaster. I like what South Carolina has on offense in Jake Bentley and Shi Smith. UNC just isn't good. 
South Carolina 31  North Carolina 10
Northwestern Wildcats
#25 Stanford Cardinal
Smith: Stanford
Generally, rotating quarterbacks throughout a game doesn't work out very well for a team. Especially when playing against a good team. That's exactly what Northwestern will be doing against Stanford. Head coach Pat Fitzgerald will be rotating senior quarterback TJ Green and Clemson-transfer Hunter Johnson. While Northwestern has a good defense led by linebacker Paddy Fisher, Stanford will be able to take advantage of the quarterback rotation. KJ Costello might be the most talented QB at Stanford since Andrew Luck. Expect the Cardinal to win here.
Stanford 28 Northwestern 17
McCrary: Stanford
Northwestern went to the Big 10 championship last year, and brings back essentially the same roster. One issue with Northwestern is they'll be rotating between two quarterbacks. Switching between quarterbacks doesn't usually work out (take Auburn vs Clemson in 2016 for example). Stanford, on the other hand, has one of the most talented quarterbacks in the country in KJ Costello. If Costello has improved upon last year, then I think the Cardinal takes a dub in week one.
Stanford 24 Northwestern 17
Virginia Tech Hokies
Boston College Eagles
Smith: Boston College
Boston College running back AJ Dillon is a BEAST. The 6'0", 250 pound bulldozer had 1,108 rushing yards and 11 touchdowns in 2018 and will be the focal point of the Eagles offense. The Eagles also return QB Anthony Brown who tore his ACL early in the season last year. Virginia Tech returns QB Ryan Willis, who won the starting job after playing well in the absence of the injured Josh Jackson. If BC's secondary can hold their own, the Eagles will win . 
Boston College 24 Virginia Tech 21
McCrary: Boston College
You need to know just one name: A.J Dillon. Dillon went off for 1,108 yards and 11 TD's last season. The Eagles also have Anthony Brown returning as starting quarterback. If Dillon plays well and rushes for 100+ yards, then I think the Golden Eagles will come away victorious.
Boston College 24 Virginia Tech 20
Boise State Broncos
Florida State Seminoles
Smith: Florida State
FSU has been awful over the past two seasons, but this season should be a bounce back year. Quarterback James Blackman has a talented arm and is very athletic and the Seminoles have one of the most talented running backs in the country in Cam Akers. Boise State lost two key components to their offense last year in quarterback Brett Rypien and running back Alexander Mattison. Florida State is much more talented than Boise State, but the game will be fairly close.
Florida State 28 Boise State 23
McCrary: Florida State
FSU has been the laughingstock of college football for the past few seasons; however, I believe they can turn things around this season. I like James Blackman, who beat out Alex Hornibrook to remain the starting quarterback. He's got talent and can be successful with a good O-line around him. The Seminoles also have one of the best running backs in the country in Cam Akers, who rushed for over 1,000 yards as a true freshman. Boise State lost two key pieces of their offense this offseason in quarterback Brett Rypien and running back Alexander Mattison. While FSU is talented, they haven't had much success in recruiting since Willie Taggart was hired as head coach. That worries me, but I think the Seminoles are more talented than the Broncos
Florida State 28 Boise State 21
#11 Oregon Ducks
#16 Auburn Tigers
Smith: Auburn
Both Auburn and Oregon have a lot to be excited for in 2019. Oregon returns almost all of their starters from 2018, including phenomenal quarterback Justin Herbert. They also have one of the best freshman classes in the nation with the top-ranked player from the Class of 2019, defensive end Kayvon Thibodeaux. Auburn returns lots of talent on both sides of the ball. They have one of the best defenses in the SEC and have speed on offense. The big question for the Tigers regards their starting QB. Is true freshman quarterback Bo Nix ready to handle one of the hardest schedules in the nation? The question may not be answered until the end of the season, but I believe Nix has enough talent around him to get the job done against the Ducks. 
Auburn 23 Oregon 21
McCrary: Auburn
Auburn has a really talented team this year. They have a lot of experience and speed on both sides of the ball. Auburn's stout defensive line will make life extremely tough for Oregon this weekend. Oregon has a lot of starters returning this year, but unless these guys improved drastically, I don't think the Ducks have enough athleticism to hang with a team like Auburn.
Auburn 24 Oregon 17