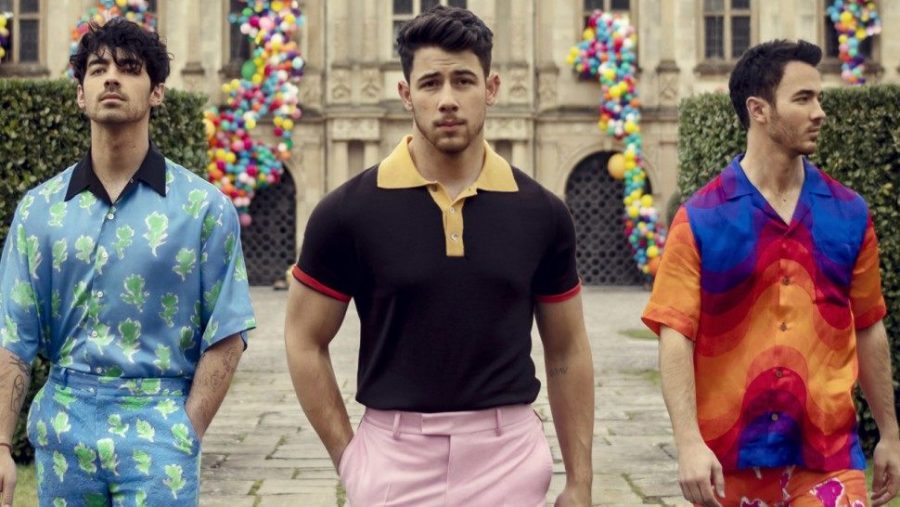 The Jonas brothers are officially back together, and they made their comeback with their new single "Sucker" reaching No. 1 on Billboard Hot 100 (March 16th 2019). The brothers have made the list before, over 12 years go and reached  No. 5  with "Burnin' Up" in 2008, along with a pair of No. 1 albums on the Billboard 200 chart in 2008 and 2009. After their split in 2013, they announced their reunion February 28, 2019 and released "Sucker" and it's official video the following day (at midnight ET on March 1).
If you didn't know this trio before, you might be wondering just who the Jonas Brothers are. The group consists of Joe, Nick, and Kevin Jonas, and the band originally formed in 2005. They went their separate ways in 2013, days before a tour, because of a "deep rift in the band" and a "big disagreement over their music direction." Not only are they a musical group, but they have also been featured on Disney Channel, guesting in shows such as Hannah Montana, and in their own Disney films, such as Camp Rock in 2008 and Camp Rock Two: The Final Jam in 2010. The boys have also been in numerous television documentaries and a reality show called Married to Jonas, which mainly focused on Kevin and his wife Dani.
After the brothers spit up,  Joe joined DNCE, the pop group who produced the hit song "Cake By The Ocean," and got engaged to Game of Thrones actress Sophie Turner. Nick became a solo artist and actor, and also married actress Priyanka Chopra. Kevin got married and started a construction business.
You can imagine fans were burning with excitement when they heard the Disney Childhood boy band (even if Joe is 29, Nick is 26, and Kevin is 31)  would be reuniting, signing with Republic Records, and releasing their first song in six years. Sucker features each of the Jonas Brothers special ladies and being "suckers" for them.
" I'm a sucker for you
You say the word and I'll go anywhere blindly
I'm a sucker for you, yeah
Any road you take, you know that you'll find me
I'm a sucker for all the subliminal things
No one knows about you (about you) about you (about you)
And you're making the typical me break my typical rules
It's true, I'm a sucker for you, yeah "
The video features the three couples, Priyanka and Nick, Sophie and Joe, and Danielle Jonas and Kevin, in a luxurious mansion with vibrant and playful scenes. The new hit has proven it's overwhelming success as a strong comeback for the brothers, But here's a list of some old and popular top ten favorites.
"Burnin' Up"
"When you look me in the eyes'
"S.O.S"
"Tonight"
"Send it on"
"Year 3000"
"Love Bug"
"Play my music"
"Paranoid"
"A little bit longer"  
How do the students of CHS feel about this reunion?
"I never even heard of them or know about them, but I knew about Nick Jonas only because I used to listen to his songs when he wasn't in the band." – Naomi Wade 10th grade.
"I don't know if its a good idea because they had beef with each other. Their song is alright." – Anslie Mann 11th
"I'm just wondering how it's going to turn out, and if they are going to be better than they used to." – Madison Bray 12th
"They were definitely a part of my childhood, and I'm glad they reunited" – Julia 10th
"I think it's pretty cool they are getting back together, love bug is pretty good and their new song is okay." -katie bray 9th
"They were my first crush. I think them reuniting is going to be garbage. They are too old to be in a boy band." -Zoe 11th