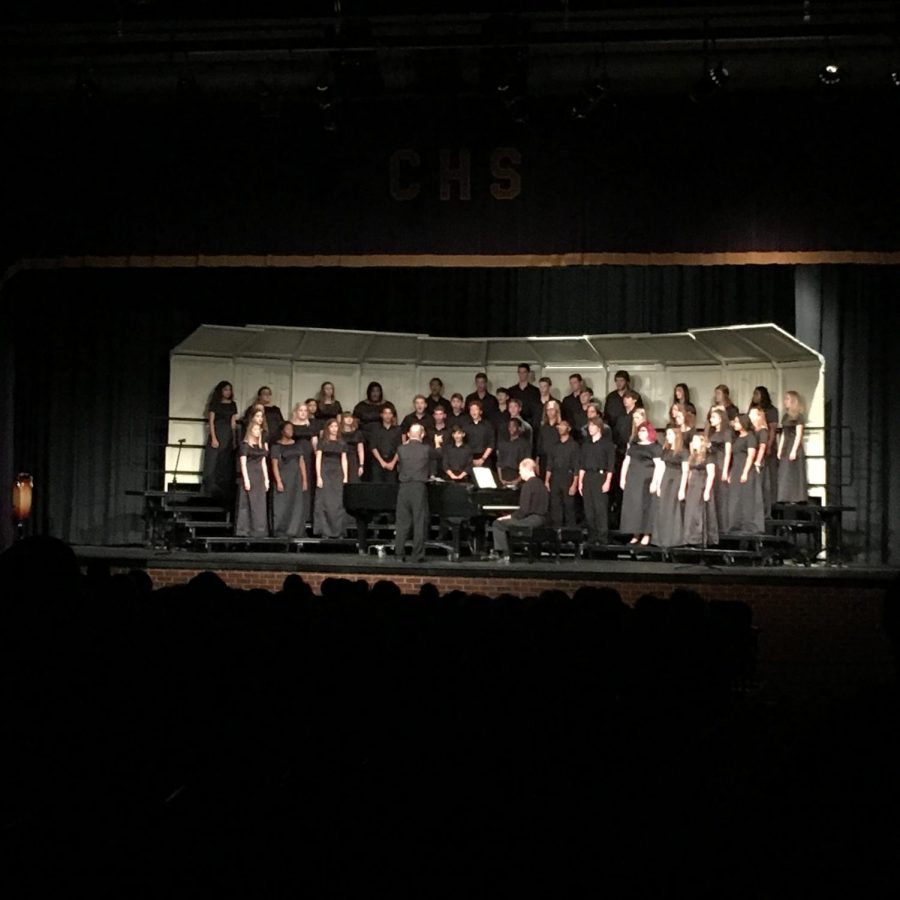 On Monday, October 1st, Cartersville High School and Cartersville Middle School joined together for a spectacular fall chorus concert led by CHS chorus teacher Jim Stanley and the middle school chorus instructor, Erin Gunter, along with student teacher Miss Rachel Mayo and accompanist Mr. Brian McLeod. With thirteen songs in total, the show consisted of selections in English as well as foreign languages with solos chosen by fellow chorus students.  
The show began with CMS Canes Chorus. This choir sang two pieces: Cool Moon, composed by Richard Williamson and the opening song of the night, immediately followed by Babethandaza, composed by Victor Johnson.  
Following the middle school, CHS Varsity Trebles took the stage. During the first piece, One Voice composed by Ruth Moody, the girls faced the back wall away from the audience. Sophomore trio Camille Waddell, Trista Ngo, and La `Maya Matthew opened the song, shortly followed by the entire choir. The last four songs included How Can I Keep from Singing composed by Neil Ginsberg, What'll I Do and Let the River Run by Shaw, and Still I Rise by Rosephayne Powell with soloists Chloe Bacon (Junior) and Alexia Stearn (Senior).  
After Varsity Trebles, the Varsity Singers took the stage. The first piece to be sung was When Music Fills the Air by Michael John Trotta, followed by You Are the New Day from Peter Night, Shenandoah by Edwin Rosson, Joy from Hans Heruth featuring a descant by Rylee Barkley (Junior) with a piano duet with Terri Jones. Mangisondele Nkosi Yam, a traditional Zulu song by Michael Barrett, was the last song including solos by Nate Everett (Sophomore) and Laura Dodge (Senior).  
For the concert finale, eighth graders joined the Varsity Singers on stage to sing Sisi Ni Moja composed by Jacob Narverud. Be sure to keep an eye out for the upcoming Holiday Concert in December, the Festival Concert in March, and the last show, the Spring Concert in May.